D&C Days at COPs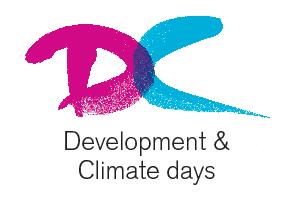 The Development and Climate Days ("D&C Days") fringe event was first initiated in 2002 at the COP 8 UN climate talks by the Saleemul Huq of the International Institute for Environment and Development in Delhi (IIED), when adaptation to climate change was at best a marginal issue.
Over the years, this increasingly popular Conference of the Parties (COP) fringe event has brought together policy-makers, scientists and development practitioners to debate the now-central theme – helping to place adaptation centre-stage with climate policies and programmes worldwide.

At the D&C Days event alongside COP 20 in the Peruvian capital, Lima, the Climate Centre and IIED joined the UK's Overseas Development Institute (ODI), and the Climate and Development Knowledge Network (CDKN) to facilitate debate and dialogue on bringing the goal of zero net emissions and poverty ("zero zero") within reach.

ODI also filmed sessions over the two days, and the event was captured graphically by artist Jorge Martin.

The 5th Assessment Report of the Intergovernmental Panel on Climate Change said humanity must achieve zero net emissions of greenhouse gases by 2100 – offsetting any remaining emissions by removing an equivalent amount from the atmosphere – to stay below a 2°C average rise in global mean temperature.
Stakeholders engaged in the UN climate talks joined others working on development goals at the 2014 D&C Days alongside what is a critical COP in the run-up to COP 21 in Paris in 2015 – a pivotal moment in UN climate talks and others.
An international agreement on climate change under the UNFCCC, the post-2015 sustainable development goals under the UN Open Working Group, and a future framework on disaster risk reduction under the Hyogo-Framework for Action II are all due to be finalized in the same year.
ODI's Susan Nicolai and Katy Harris provided reflections on the key takeways from the 2014 D&C days discussions, while CDKN's Mairi Dupar wrote a two-part blog exploring the possibility of coherence among the 2015 development, climate, and risk reduction frameworks.
The Climate Centre also reported on an cooperative project to create solar-powered, lighter-than-air sculptures at the Lima D&C Days, challenging people to rethink approaches to tackling climate and poverty.
(More news on the Paris D&C Days will be appear in this page later this year.)