Supported by PfR, Haiti Red Cross agrees climate measures with environment ministry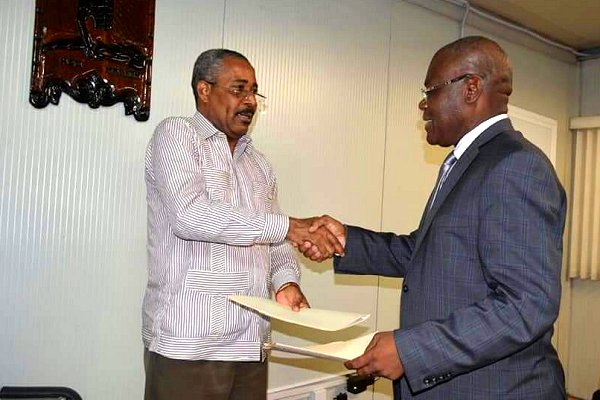 8 October 2018
The Haitian Red Cross last Thursday signed a memorandum of understanding with the Ministry of the Environment to set up "a cooperation framework specifically to prevent and mitigate the humanitarian consequences of climate change".
With in-country support from Partners for Resilience (PfR) and the Netherlands Red Cross (NLRC), the two institutions will work together to strengthen community resilience through integrated risk management (IRM) and mechanisms such as risk management in river basins.
The MoU was signed by the Minister of the Environment, Joseph Jouthe, and HRC President Guiteau Jean-Pierre (photo).
Also present at the signing was PfR's focal point at the ministry, Dwinel Belizaire, NLRC country representative, Yvan Trapet, and the Climate Centre's technical adviser, Janot Mendler de Suarez.
PfR in Haiti advocates sustained investment in IRM and resilience "to enhance transformative sustainable development" on a scale sufficient to break the cycle of poverty and vulnerability, its website says.
The new MoU in Haiti on rolling back the humanitarian impacts of climate change was signed by the Minister of the Environment, Joseph Jouthe (at right), and the HRC President Guiteau Jean-Pierre. (Photo: Ministry of Environment via Facebook)