In pictures: Rice and debts on the minds of typhoon survivors in the Philippines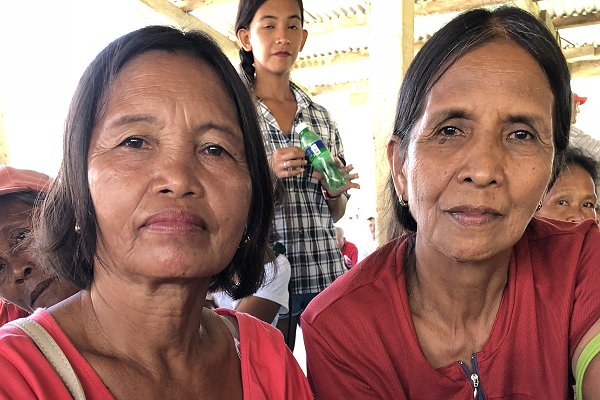 28 September 2018
(In these photo stories gathered by the IFRC's Rosemarie North local women talk about what keeps them awake at night now.)
Early on 15 September Typhoon Mangkhut tore through the northern tip of Luzon in the Philippines, a monstrous 900 kilometres wide and the strongest storm worldwide so far in 2018.
Ferocious winds and torrential rain brought flooding and landslides. Mangkhut affected 2.1 million people in 31 provinces.
Known locally as Ompong, it destroyed many hectares of rice and corn just before harvest.
The Philippine Red Cross, in action helping people evacuate from before the storm hit and during the disaster to rescue people, has already served hot meals and distributed emergency help to thousands of the worst-off people.
On 23 September, at Bitag Grande Elementary School in Baggao, Cagayan Valley province, 393 families whose houses were damaged or destroyed received corrugated iron sheeting and a shelter toolkit from the Red Cross.
At the school, Philippine Red Cross Chairman Richard Gordon pledged solidarity with people. "This is just the beginning. We will be here to help you cope until you recover."
'Strong people'
Chris Staines, head of Philippines IFRC country office, which launched an international appeal with the Philippine Red Cross, said, "We can see from the progress that you are already making that you are a strong people and a strong community, and that gives us great confidence.
Please be assured that people around the world care about you and will continue to support you."
Although this community is resilient, people who earn a living farming their own crops or as agricultural day-labourers face an uncertain future. Many of them support grandchildren, older family members or relatives with disabilities.
Nenita Daquioag (at left) is the main breadwinner for her sister and two brothers, one of whom is blind. She was among the first group of people to receive corrugated iron sheets and a shelter toolkit to fix her damaged room from the Red Cross. (Photo: Rosemarie North/IFRC)