Global partnership to use 'frontier technology' to predict and beat famine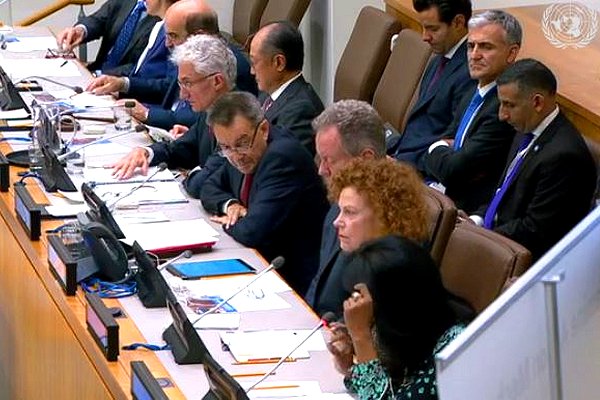 26 September 2018
The UN, the World Bank, the ICRC and the world's leading technology firms Sunday convened a public forum to review a partnership that constitutes "the first global mechanism dedicated to preventing future famines," a press release from the bank said.
The Famine Action Mechanism (FAM) – launched in early 2017 – seeks to move away from a pattern of response only after many lives have been lost and high costs of assistance incurred "towards famine prevention, preparedness and early action…
"The initiative will use the predictive power of data to trigger funding through appropriate financing instruments, working closely with existing systems."
The World Bank says 124 million people worldwide still suffer crisis-level food insecurity requiring humanitarian assistance; over half live in areas affected by conflict.
                      'Artificial intelligence and machine learning
                      hold huge promise for forecasting food shortages'
"FAM is an important new tool that will help to predict and therefore prevent food insecurity and famine before they have a chance to take hold," said UN Secretary-General António Guterres, speaking at the high-level event in New York alongside the General Assembly.
"Crisis prevention saves lives. With the Famine Action Mechanism, we are renewing our pledge of zero tolerance for famine and acute food insecurity."
World Bank Group President Jim Yong Kim said FAM was "a preventative approach that knits together innovative technology, early financing, and strong partnerships on the ground in an effort to prevent famine."
ICRC President Peter Maurer told the meeting famine was a symptom of protracted conflict. He said the 15 largest ICRC operations today accounted for at least 80 per cent of forced displacement and food insecurity in the world.
The new mechanism, he said, "can help identify the multiple links between conflict and famine."
Global coverage
Google, Microsoft, Amazon and other technology firms are jointly developing an analytical model called Artemis that uses artificial intelligence and machine learning to forecast food-security crises to try to get decision-makers to respond sooner.
This holds "huge promise for forecasting and detecting early signs of food shortages, like crop failures, droughts, natural disasters, and conflicts," said Microsoft President Brad Smith.
"Microsoft is proud to join Amazon and Google in developing solutions to address this humanitarian need."
Climate Centre director Maarten van Aalst today noted FAM was part of a "global drive to be faster and smarter in the face of rising risks," reflected, for example, in the International Federation's German-supported DREF window and a growing portfolio of other forecast-based financing (FbF) initiatives worldwide.
"Partnerships are key: the UN, the World Bank, the ICRC and the tech firms coming together in this way graphically illustrates the potential of working together."
He added that FbF was now generating partnerships at country level, including between meteorological agencies and first-responders like National Societies, many of whom are in Berlin for this week's 6th global dialogue platform on FbF.
The FAM will be rolled out in a small group of vulnerable countries building up to global coverage; on 13 October senior figures involved with it will gather as part of the IMF-World Bank annual meetings to discuss implementation of the initiative.
Sunday's high-level event in New York convened by the UN, the World Bank, the ICRC and the world's leading technology firms to review progress on the Famine Action Mechanism. Peter Maurer is at centre, facing left. (Video still: UNTV)