Red Cross battles climate impacts on two fronts in Kenya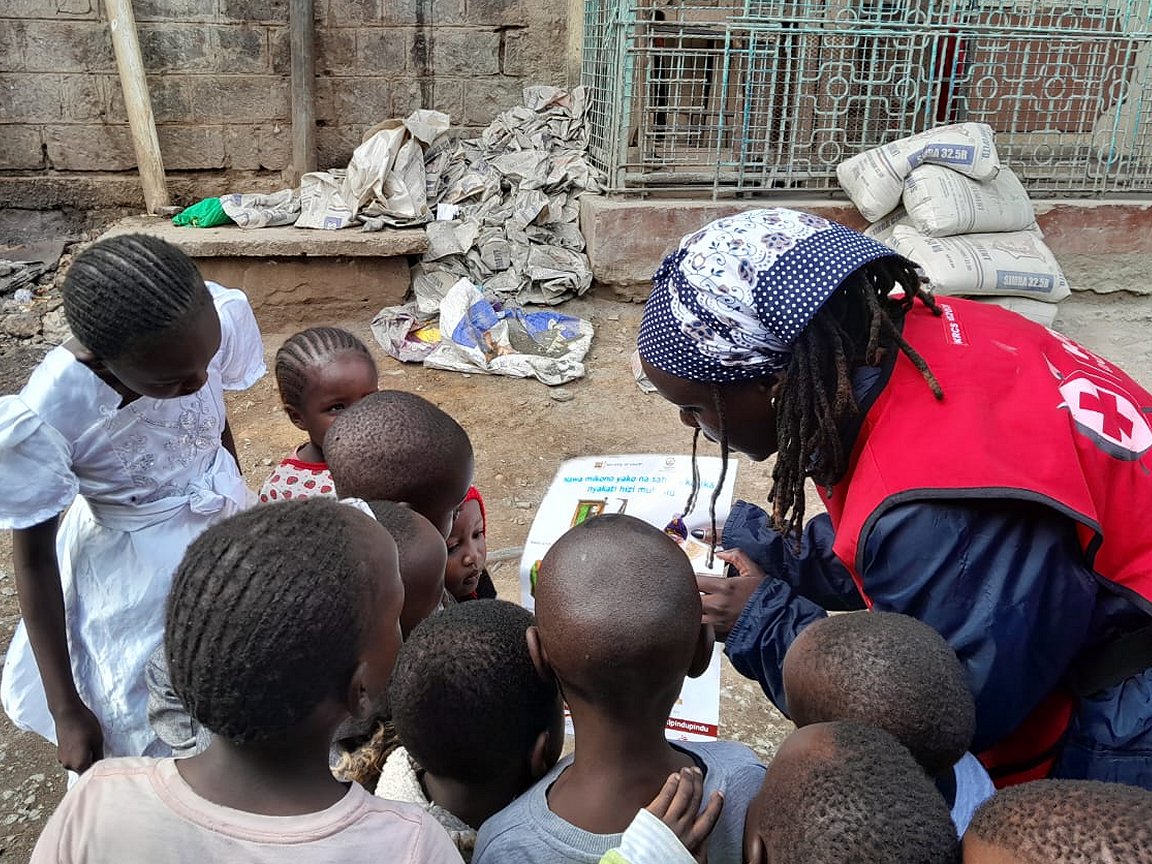 12 April 2023
By the Climate Centre
The start of the long rains in Kenya last month caused floods across northern and southern parts of the country, concentrated over six days in late March, claiming lives and displacing hundreds of people, the Kenya Red Cross reported.
Even as the National Society continued its efforts to bring relief to counties affected by the long-standing drought, its aquatic teams were deployed to rescue people stranded by floodwater.
In one operation, the KRCS was able to airlift much-needed food supplies to the villages of Badanrero, Amballo and Laki in Moyale constituency, bordering Ethiopia, with the aid of an Airbus Foundation helicopter.
In the wake of the floods, the Red Cross is also stepping up its work on safe water and cholera prevention (photo) for communities.
A grant from the IFRC Disaster Response Emergency Fund of just under 450,000 Swiss francs was announced late last week; it will help the KRCS bring relief to 15,000 people – nearly half the total number believed to be affected.
Some flooded regions "are also affected by existing cholera outbreaks and food insecurity due to a multi-year ongoing overall drought situation," the IFRC reported.
Seasonal rivers
Livestock that only just survived the devastating drought are now dying from floods, with nearly 5,000 animals said to have perished in the seasonal floodwater.
The DREF operation targets northern counties regarded as being the least flood-prone – including areas vulnerable to run-off from the highlands of neighbouring Ethiopia as well as the recent intense local rain.
The IFRC added that amid drought, "nomadic people had settled along the seasonal rivers causing a huge effect on the northern part of the country."
As of last week, the KRCS had already started food distributions for displaced people using disaster preparedness stocks and local contributions, supporting 2,000 households in Mandera, Marsabit and Wajir counties.
The Kenya Meteorological Department has reported that the early onset of the rainy season over some parts of the country "was due to the influence of Tropical Cyclone Freddy, while the heavy rainfall experienced during the fourth week [of March] was occasioned by the Madden-Julian Oscillation over the Indian Ocean."  
The KMD says in its latest forecast that parts of the north-eastern and south-eastern lowlands and the Lake Victoria basin will receive "near-average to above-average rainfall" this month.
After recent floods combined with drought impacts in Kenya, the Red Cross is stepping up its work on safe water and cholera prevention (pictured) for communities. (Photo: KRCS via Twitter)