Technical workshop charts possible early actions for extreme rain on Ecuador-Peru coast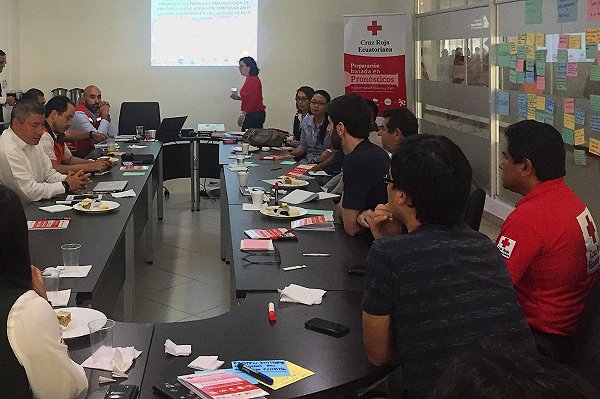 21 September 2018
Experts from the governments of Ecuador and Peru, their specialist agencies, and the two Red Cross National Societies met in the Ecuadorean port city of Guayaquil last week to plan possible 'early action protocols' (EAP) under the IFRC's new forecast-based action fund launched in Geneva in May.
The workshop – in the headquarters of Ecuador's Integrated Security Service 'ECU 911' – coincided with the run-up to the rainy season that would normally start in December, and it was also a response to the forecast likelihood of an El Niño that could herald extreme rainfall.
An El Niño watch is currently in effect. The September outlook from the IFRC's forecasting partners at the International Research Institute for Climate and Society says "statistical and dynamical models collectively favor El Niño development during [the northern hemisphere] fall, most likely maintaining weak strength during late fall and winter; most forecasters agree with this scenario."
'Bridge'
The Guayaquil meeting covered technical issues centred on forecasting El Niño and the problems of how to frame uncertainty when communicating with decision-makers.
It also analysed detailed climate information and looked at lessons from past El Niños that could aid EAP design by both the Ecuadorean and Peruvian Red Cross within forecast-based financing (FbF).
"Workshops like these reinforce the commitment of scientific institutions to reach out to communities, and with this project it's the Red Cross assisting us in building that bridge," said José Olmedo Moran, Executive Director of Ecuador's National Institute of Meteorology and Hydrology (INAMHI), one of the agencies represented at the workshop.
Others included the country's Institute of Oceanography (INOCAR) and the Guayaquil-based Centro Internacional de Investigación sobre El Fenómeno El Niño (CIIFEN), along with Peru's National Service for Meteorology and Hydrology (SENAMHI) and the Peruvian Geophysical Institute (IGP).
Generally speaking, Ecuador and Peru use similar methodologies and tools for forecasting El Niño, and it's hoped now the new FbF-related collaboration will help predict extreme rains using the statistical models both countries have been working on for years.
The workshop in Guayaquil, Ecuador covered technical issues surrounding the forecasting of El Niño that could help improve forecast-based humanitarian action on the coasts on both countries. (Photo: Belen Liger/Ecuadorean Red Cross)