Red Cross in maximum preparedness effort ahead of weekend of storm impacts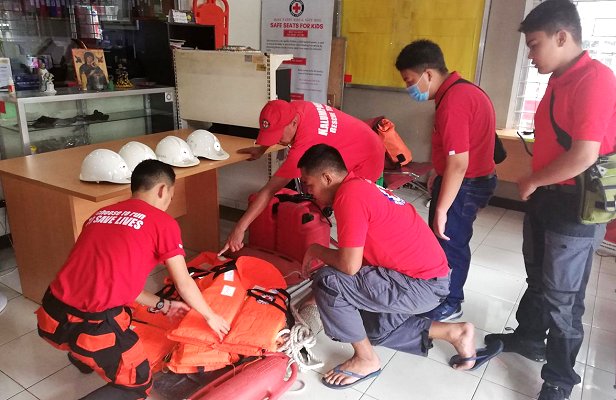 14 September 2018
Red Cross staff and volunteers on opposite sides of the world were this weekend engaged in a maximum effort to assist people affected by two destructive storms that made landfall within hours of each other.
Teams from the Philippine Red Cross (PRC) were late Friday on their highest level of alert as communities in the north of Luzon island – the country's largest and most heavily populated – faced impacts from the arrival of Typhoon Mangkhut in the small hours of Saturday morning local time.
The storm – known locally as Ompong and some 900 kilometres wide – threatened widespread damage to infrastructure, agriculture and livelihoods, the IFRC reported.
The International Federation released an 'imminent emergency' grant of US$ 86,000 from its Disaster Relief Emergency Fund to support Red Cross preparedness.
Shelters
The American Red Cross, meanwhile, tweeted Friday that more than 2,000 trained disaster responders were eventually deployed "to ensure those affected by #HurricaneFlorence have a safe place to go".
That storm made landfall Friday in North Carolina and news reports said 800,000 homes had been left without power.
At least 80 Red Cross emergency-response vehicles and more than 120 trailers carrying equipment and relief supplies had also been sent into affected areas.
A special interactive American Red Cross website guided people to emergency shelters near their location.
PRC Chairman Richard Gordon said Friday: "The irony is we are getting better in preparing for disasters: we have more evacuation centres, more people of the ground; we have the logistics and assets needed to respond. But climate change is making the storms stronger and harsher."
"We've experienced Category 5 typhoons in the same area in 2010 with Megi and 2016 with Haima.But Mangkhut's swathe here is wider, so that means a lot of ground will be covered, and it is still very capable of creating a lot of suffering for people."
Storm surge?
PRC emergency teams and volunteers in local chapters in three regions were ready with aquatic search and rescue teams, water units and other equipment.
Typhoon Mangkhut is the 15th storm to slam into the Philippines this year, which would see 20 a year on average.
The Philippine Atmospheric, Geophysical and Astronomical Services Administration (PAGASA) said Ompong made landfall in Luzon's Cagayan province at 01:40 local time Saturday; PAGASA warned of storm surges of up to 6 metres there, with possible smaller surges elsewhere.
WWA scientists said Friday they had looked at the possibility of doing a study of Florence, similar to Hurricane Harvey last year, but had decided against it for technical reasons and because of internal resource constraints.
Emergency teams from the Philippine Red Cross Marikina chapter check their gear and equipment as the Typhoon Mangkhut approached landfall in northern Luzon. (Photo: PRC)