Guterres: World risks crossing point of no return on climate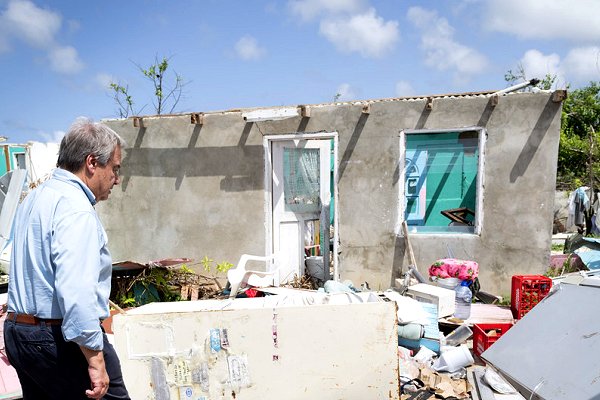 13 September 2018
UN Secretary-General António Guterres this week warned the world risks "missing the point where we can avoid runaway climate change", with disastrous consequences for people across the planet and the natural systems that sustain them.
Calling in a landmark speech in New York for more leadership on climate action to change course by 2020, Guterres said the Paris Agreement was only a "bare minimum" to avoid the worst climate impacts.
"The mountain in front of us is very high but it is not insurmountable. We know how to scale it," he said.
"We need to put the brake on deadly greenhouse gas emissions and drive climate action," he said, calling for a shift from fossil fuels and deforestation towards cleaner energy and more efficient use of resources.
                'Every day we fail to act is a day we step
                  a little closer towards a fate none of us wants'
Guterres highlighted the impact of the climate crisis on vulnerable nations and urged richer countries to do more to assist.
He said he'd be reiterating that message at the UN General Assembly this month, as well as at forthcoming meetings of the G7, G20, World Bank and IMF.
"The time has come for our leaders to show they care about the people whose fate they hold in their hands. We need them to show they care about the future."
The Secretary-General concluded: "There is no more time to waste. We are careering towards the edge of the abyss."
It was not too late to shift course but "[e]very day we fail to act is a day that we step a little closer towards a fate that none of us wants – a fate that will resonate through generations in the damage done to humankind and life on earth."
'Front lines'
Welcoming the Mr Guterres's remarks, IFRC Secretary General Elhadj As Sy agreed that time was running out to address rising risks.
"We urgently add our voice to this call for action, not just to reduce greenhouse gas emissions but especially also to build resilience.
"The most vulnerable – the very people who have contributed least to the problem – are already facing the impacts of climate change today.
"Our Red Cross Red Crescent volunteers, who work on the front lines of the rising risks, stand ready to do their part, but we need action by all – from heads of states to local officials, from CEOs to the owners of small businesses, and in the end individual citizens everywhere."
The Intergovernmental Panel on Climate Change in October releases its new special report on how risks are now, and will go on, rising at even moderate levels of climate change, and what it will take to avoid further warming.
In the same month the IFRC in Geneva hosts a special meeting to assess the humanitarian implications of this, with a special focus on what rising risks mean for the most vulnerable.
António Guterres walks through a neighbourhood destroyed by back-to-back hurricanes in the town of Codrington, Antigua and Barbuda, last year. He visited the Caribbean nation to survey the devastation and offer support from the UN. The photo illustrated UN news coverage of the Secretary-General's speech on climate this week. (Photo: Rick Bajornas/UN)