'Uneven progress' at Bangkok talks on future climate regime, says UN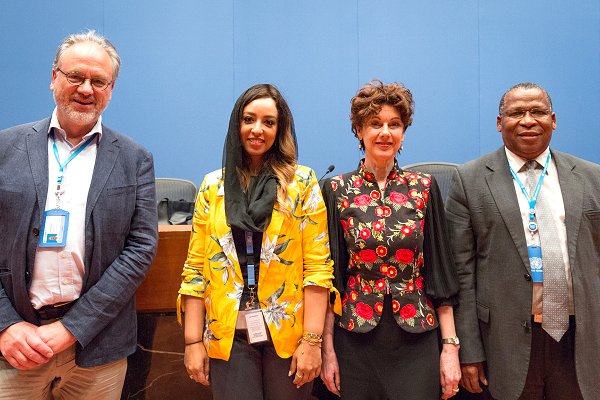 10 September 2018
A supplementary session of UN climate talks on a global rule-book for implementing the Paris Agreement ended in Bangkok yesterday with "uneven progress", said Patricia Espinosa, Executive Secretary of UN Climate Change. 
The guidelines for putting Paris into effect have been under negotiation since 2016 and are intended to be adopted at the annual COP meeting being held this year in Katowice, Poland, in December.
In Bangkok, where the IFRC was represented by the Climate Centre's Manila-based Technical Adviser, Donna Lagdameo, there was "uneven progress on the elements of the climate change regime that countries are working towards," Espinosa told a closing press conference.   
"This underlines the urgent need for continuing work in the coming weeks," she added.
'Flood-related deaths, livelihoods wiped out
and infrastructure lost across large stretches
of the developed and developing world'
A separate UNFCCC press release yesterday said states had been "grappling with how to reflect the contributions and responsibilities of developed and developing countries given their different national circumstances.
"Of key concern are items that relate to transparently and regularly communicating actions, as well as how to achieve full clarity on climate finance…"
Humanity had this year witnessed "flood-related deaths, livelihoods wiped out by droughts and expensive infrastructure lost across large stretches of the developed and the developing world," the UN press release added.
Paris includes provisions to deal with the impacts of climate change, it noted, and increased support for action by developing countries in finance and technology.
Global pact?
Meanwhile, the President of the 72nd session of the UN General Assembly, Miroslav Lajčák of Slovakia, last week said a future global environment pact could act as an "accelerator" in implementing both the Paris Agreement and the 2030 Agenda for Sustainable Development.
He was speaking in New York at the first session of a working group established by the General Assembly last May to encourage international momentum toward such a pact.
Calling for urgent action to give the planet "a certain future", Lajčák said Wednesday: "Millions of people are living through extreme-weather events, from mega-hurricanes to droughts. And many others have lost their lives because of them.
"The climate around us [UN emphasis] is changing. And current trends suggest that our world will keep getting warmer. Which means things can only get worse."
The UN team presiding over talks on a rule book for the Paris Agreement: Paul Watkinson, Sarah Baashan, Jo Tyndall and Emmanuel Dlamini (Photo: UNFCCC)