Finnish Red Cross study of Arctic disaster-management: from air-dropped survival kits to the 'Snowbulance'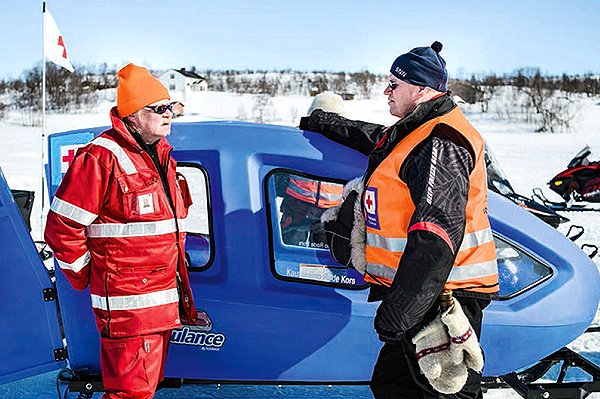 7 September 2018
(This story appeared first earlier this week on the website of the Finnish Red Cross. It has been edited slightly here for length.)
The Red Cross Arctic Disaster Management project develops capacities for evacuations in major accidents in cold conditions and maps out the existing capabilities and capacities of the Red Cross for Arctic response.
It's conducted as a part of the Finnish Border Guard's Arctic Maritime Safety Cooperation project, for which the Ministry for Foreign Affairs of Finland has provided funding.
The first part of the project was conducted during September 2017–August 2018 and it continues to next August.
Oil spills
As a part of the project, the Finnish Red Cross has compiled the Red Cross Arctic Disaster Management Study – the first attempt to provide a comprehensive overview of the presence, services and response capacity of the Red Cross and Red Crescent Movement in the Arctic.
National Red Cross Societies from the US (Alaska), Canada, Iceland, Denmark (including Greenland and the Faroe Islands), Norway, Sweden, Finland and Russia provided information for the study.
The Arctic is a vast area, characterized by severe conditions and challenging geography. The spectrum of risks ranges from cruise-ship accidents to oil spills and natural disasters such as earthquakes, tsunamis and landslides.
With trade, shipping, resource extraction and tourism, the possible risks and vulnerabilities in the Arctic are growing.
Winterization
The study focuses on Red Cross emergency response capabilities, including human resources, equipment, logistics, databases and alerting systems, training and capacity building, cooperation and coordination, and long-term programmes in the Arctic.
The Movement has over 10,000 trained volunteers all around the Arctic area, with extensive know-how on conditions, who are significant assets for local authorities.
Branches are well prepared for the everyday incidents, but in a major accident assistance would need to be mobilized from outside the area.
Arrangements and pre-planning for these types of events, however, doesn't seem to be adequate, but Arctic National Societies adapt to the challenging conditions by developing specific techniques and equipment for the Arctic context, from air-dropped survival kits to Arctic first aid.
The study makes 13 key recommendations: on strengthening volunteer management in the Arctic including spontaneous volunteers; enhancing response capacities for major emergencies through winterization and harmonization of existing units and pre-logistical planning; increasing cooperation with public authorities, external partners, stakeholders and indigenous communities; and strengthening Red Cross advocacy and presence on the Arctic Council.
The Red Cross 'Snowbulance' attached to a snowmobile for the transportation of injured people. Part of good branch-to-branch cooperation in the Sami Ski Race, when Finnish and Norwegian Red Cross volunteers provide first aid services together. (Photo: Jouni Porsanger/Finnish Red Cross)