Study: Western Mediterranean heatwave rare even for today's warmed world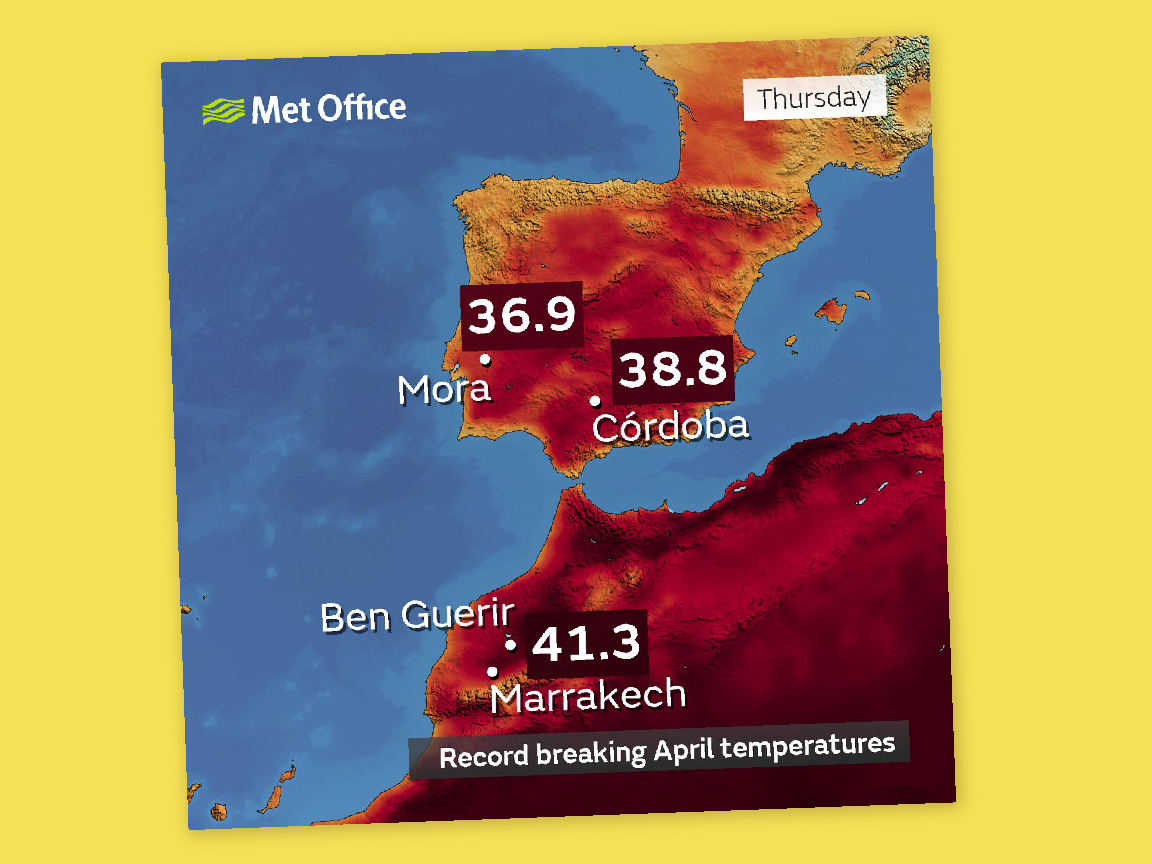 7 May 2023
By the Climate Centre
A rapid study of last month's extraordinary heatwave in the western Mediterranean by World Weather Attribution scientists says that while Europe and North Africa have experienced more extreme heat in recent years, the April heatwave was "so extreme that it is also a rare event in today's warmer climate".
During the last week of April, temperatures in parts of Spain, Portugal, Morocco and Algeria were up to 20°C higher than normal for the time of year (image). 
The Portuguese and mainland Spanish April records were broken by large margins, with 36.9°C and 38.8°C respectively observed in the south of the Iberian peninsula; local April records were also broken in Morocco, and temperatures above 40°C were recorded in Algeria.
Scientists from (alphabetically) France, Morocco, the Netherlands, the UK and the US assessed how climate change has altered the likelihood and intensity of such an early-season heatwave; it would have been "almost impossible" without climate change, they conclude.
'More common, longer, hotter'
WWA team-member Fatima Driouech, Associate Professor at Morocco's Mohammed VI Polytechnic University, said: "The intense heatwave came on top of a pre-existing multi-year drought, exacerbating the lack of water in western Mediterranean regions and threatening the 2023 crop yield.
"As the planet warms, these situations will become more frequent and call for long-term planning, including implementing sustainable agricultural models and effective water-management policies."
The Climate Centre's Roop Singh, who leads its work on extreme heat, said Friday: "Early-season heatwaves tend to be deadlier as people have not yet prepared their homes or acclimated to summer temperatures.
"In Spain, for example, we saw heatwave adaptation measures put in place earlier than usual, which is exactly what we need to see more of to reduce preventable deaths from heat."
In its own summary of the WWA study, the World Meteorological Organization also points out that last month's event occurred "against the backdrop of an intense drought". Worldwide, the WMO adds, climate change has made heatwaves "more common, longer and hotter".
Just before the heatwave peaked, the European Commission's Directorate-General for Defence Industry and Space tweeted satellite photos of parched landscapes in Andalusia, Spain and the Algarve in Portugal, commenting that drought was having a "severe impact on agriculture and biodiversity" in the former, while reservoirs in southern Portugal were 15 per cent below what they should be.
(Image: UK Met Office)