'Combattre la dengue en s'amusant'*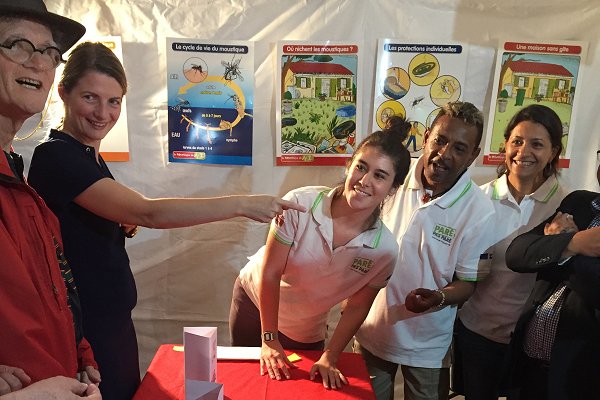 5 September 2018
At an after-dark street market in Saint-Denis, the administrative centre of Réunion, the French Red Cross referee counts down in a booming voice, "Five, four, three, two, ONE!"
The team playing mosquitoes prepare to 'sting' their human prey; their opponents, playing themselves, are poised to try to eliminate breeding-grounds represented by 'mosquito eggs' (beans).
At the Red Cross 'Buzz about Dengue' stand at the already-buzzing 'Marché de Nuit', the three-strong teams simultaneously execute the various actions until one of them prevails.
It's a fast-moving, noisy and fun game, but – in the context of an outbreak of dengue fever that's caused the standing French emergency-response plan, ORSEC, to be raised to just short of its highest level – a deadly serious one.
In the French Indian Ocean territory (population more than 850,000), nearly 6,500 dengue cases have been recorded this year.
                              'Through this game young people can learn
                              the right actions and show their parents'
All actors and agencies, including the French Red Cross Regional Intervention Platform in the Indian Ocean (PIROI), are now doing everything they can to roll the outbreak back before the start of the rainy-season next month that will last to April; dengue-carrying mosquitoes breed faster in hot, wet conditions. 
"Given what was happening, we decided to work the battle against dengue into our Paré pas Paré [Ready or not?] programme," Mathieu Pasquet, PIROI Disaster Risk Reduction Officer, told Le Quotidien newspaper on Réunion.
"The idea was to raise people's awareness of the dangers and remind them that even during the winter [wet months] they can fight back against dengue."
The French Red Cross initiated Paré pas Paré in Réunion in 2011 to raise local awareness, particularly among the young, of the disaster risks facing the territory.
"Of all French administrative departments, Réunion Island is the one most exposed to natural risks, as its mountainous terrain, geology [and] geographical position influence [their] frequency," says the PIROI website. 
Teaching
The Buzz about Dengue game played in Réunion last month was developed by the IFRC, Climate Centre and partners, and it was kicked off in the Saint-Denis nocturnal market by new prefecture Chief of Cabinet Marie Amélie Vauthier-Bardinet (pointing in photo), elected city representatives, and regional health officials.
The game also included an educational element and a dengue-centred quiz for players.
"I've learned things about dengue fever," said Vauthier-Bardinet. "I didn't know, for example, that you should not take aspirin [that can increase bleeding] when you are infected.
"We are in winter now. This is the moment where we should do everything we can to stop the spread of mosquitoes. Through this game young people can learn the right actions and show their parents."
The French Red Cross is planning further sessions of a Buzz about Dengue as the winter proceeds, and local newspapers have invited readers to join in.
*'Have fun, fight dengue' – headline in Le Quotidien 5 August 2018.
A Buzz about Dengue played in Réunion last month was kicked off in the Saint-Denis 'Marché de Nuit' by prefecture chief Marie Amélie Vauthier-Bardinet (pointing in photo), elected city representatives, and regional health officials. (Photo: French Red Cross)