IFRC: Access and time crucial to help families in Myanmar and Bangladesh affected by Cyclone Mocha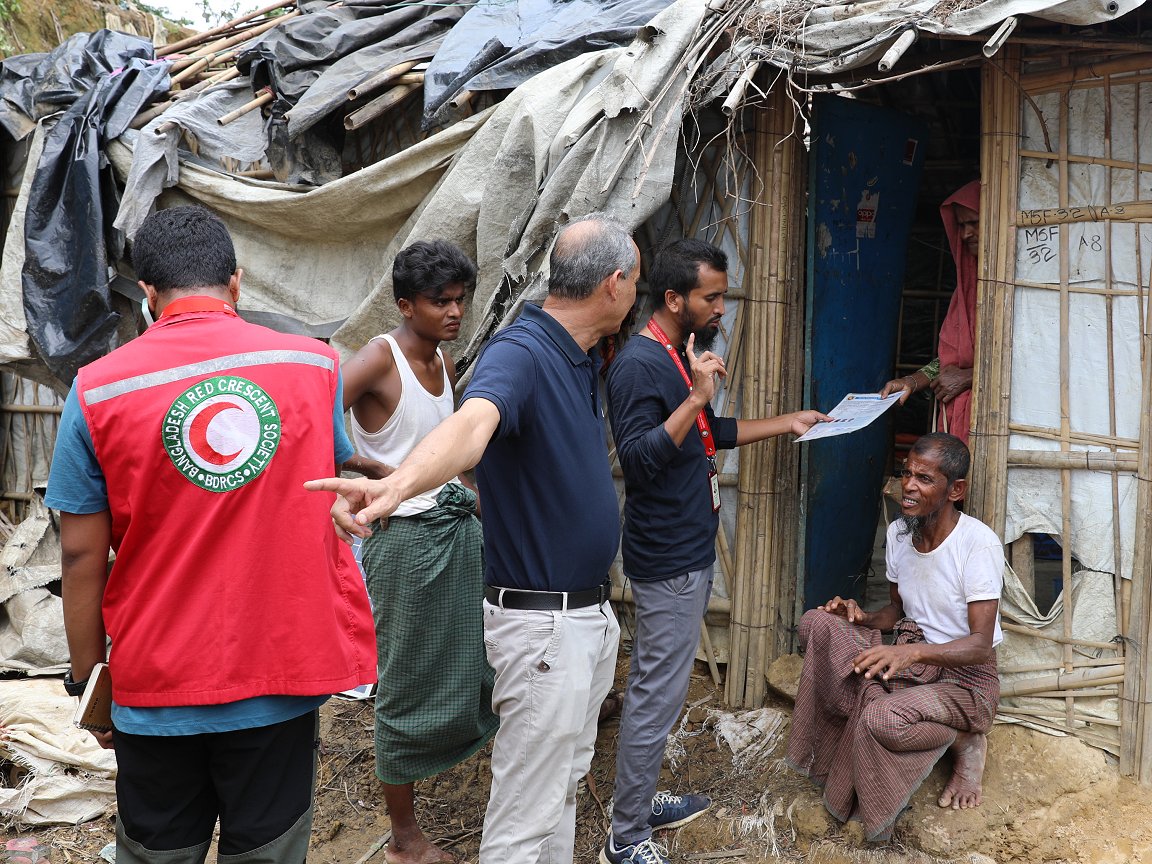 16 May 2023
By the IFRC
(This story is an IFRC press release issued earlier today in Kuala Lumpur and Geneva.)

The strongest cyclone in the Bay of Bengal in the last ten years has affected families already internally displaced in Myanmar and living in refugee camps in Bangladesh.
Cyclone Mocha crossed the coast between Cox's Bazar in Bangladesh and Kyaukpyu township, near Rakhine state's capital of Sittwe, Myanmar on Sunday with winds estimated as strong as 250kph, bringing heavy rains, storm surge, flash floods and landslides.

In Myanmar, the cyclone has caused significant damage: houses destroyed, electricity lines down, and power and water services disrupted. Resulting storm surges have also knocked out bridges and inundated homes.
To date, based on early reports, around 355 households in Yangon, Magway and Ayeyarwaddy regions are affected, while initial reports from Chin state also highlight damage, and more than 130,000 people were evacuated to temporary shelters.

Widespread devastation has been reported in Rakhine, impacting public and private infrastructure, destroying homes and livelihoods. 
While reports from the field continue to come in, and rapid assessments are carried out, needs are expected to be high and affected people will require immediate relief items, shelter, water, sanitation and hygiene needs, emergency healthcare and psychosocial support. Families who have been separated will need to be reconnected.

Storm surges

The potential for communicable disease outbreaks is high, while landmines and other explosive remnants of war pose further risks as flooding and landslides can carry the devices to locations previously deemed safe.
More than 800 Red Cross volunteers and staff have responded around the country and emergency response teams have also been deployed. 

Pre-positioned relief stock items are being sent to the Myanmar Red Cross hub in Rakhine to cover 2,000 households.

The IFRC and its members are supporting the Myanmar Red Cross Society in scaling up disaster response measures to support affected communities along Cyclone Mocha's path, as well as those affected by storm surges all along the country's extensive coastline.
Nadia Khoury, IFRC Head of Delegation in Myanmar said: "The potential scale of the devastation is overwhelming, covering a huge area of the country. Hundreds of thousands of people will have been left in a highly vulnerable situation, just as the monsoon season is due to start.

"We are working with the Myanmar Red Cross, our partners in-country and the ICRC regarding areas that need access and resource mobilization for a coordinated response, providing strategic, operational, financial, technical, and other support. 

"With its presence in every affected township through its branches and volunteers, the Myanmar Red Cross will be providing multi-sectoral assistance to seek to best meet the needs of affected populations."
Access in Rakhine and the north-west remains heavily restricted, while the level of damage in rural and other hard-to-reach areas, especially camps for internally displaced people, is still unknown due to the interruption of phone and internet lines.
'Evolving situation'

In Bangladesh, while the cyclone caused massive destruction on Saint Martin island and the adjacent coastal area of Cox's Bazar, it was less impactful than anticipated.

While assessments are ongoing, it has been reported so far that nearly 3,000 households are affected and 10,000 households partially damaged.
More than 8,000 Bangladesh Red Crescent volunteers were deployed before Cyclone Mocha made landfall and 76,000 Cyclone Preparedness Programme volunteers were prepared in coastal areas for any complex situation.

Volunteers are currently on the ground in affected areas, rescuing people, providing emergency relief items, medical support, safe drinking water and other support.
Sanjeev Kafley, IFRC Head of Delegation in Bangladesh, said: "The IFRC and its wide network have been supporting the Bangladesh Red Crescent in its rescue and relief activities, working closely with the National Society to ensure that people affected by Cyclone Mocha receive the necessary assistance.

"Our teams are on the ground in affected Cox's Bazar camps and other coastal areas and assessing the evolving situation."
Abdul Habi, 43, and his wife, Feroza Khatun, 51, live in this house with two of their children. Cyclone Mocha blew the roof off and drenched their belongings. (Photo: BDRCS via IFRC)