US space agency and Climate Centre brainstorm ways of linking humanitarian work with Earth observation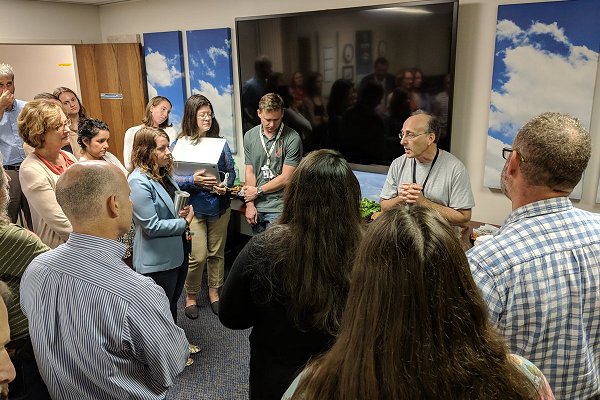 26 August 2018
(This story appeared first on Friday on the SERVIR Global website. It has been edited slightly here for length.)
NASA and the Climate Centre last week hosted a joint workshop to explore new ways to link disaster risk reduction, preparedness, and response with NASA's Earth Observation (EO) capabilities.
Convened at the NASA Marshall Space Flight Center in Huntsville, Alabama and beginning on 21 August, this four-day event improved the ability of NASA EO scientists and coordinators to understand and address the needs of on-the-ground stakeholders.
The workshop also helped to facilitate improved communication and partnership between the NASA disasters program and SERVIR to design and implement future collaborations.
The workshop identified opportunities for purposeful collaborations between NASA and the humanitarian sector, including establishing thresholds that can trigger early action based on EO data.
The teams share common interests
and complementary mandates
and have exciting ideas for joint work
Additionally, the workshop's successful use of serious games and innovation inspired participants to propose creative ways to include this approach in the future. 
Serious games enable participants to directly experience the challenges of linking information, decisions, and consequences of real-life situations.
This approach will facilitate deeper interaction with stakeholders and improves how EO services are delivered.
SERVIR, a joint venture between NASA and the US Agency for International Development, provides state-of-the-art, satellite-based Earth monitoring data, geospatial information and tools to help improve environmental decision-making among developing nations.
The NASA Disasters Applications program promotes the use of Earth observations to improve prediction of, preparation for, response to, and recovery from natural and technological disasters.
With the Climate Centre these three teams share common interests and complementary mandates and have numerous concrete and exciting ideas for joint work.
NASA Disasters Program Manager Dr David Green Friday delivers the Marshall Space Flight Center workshop's "inspiring closing remarks on making sure the concepts are integrated into our work, for the benefit of improved, timely decision-making". (Photo: @BZGeo)