2 June, Heat Action Day 2023: heatwaves are intensifying but together we can #BeatTheHeat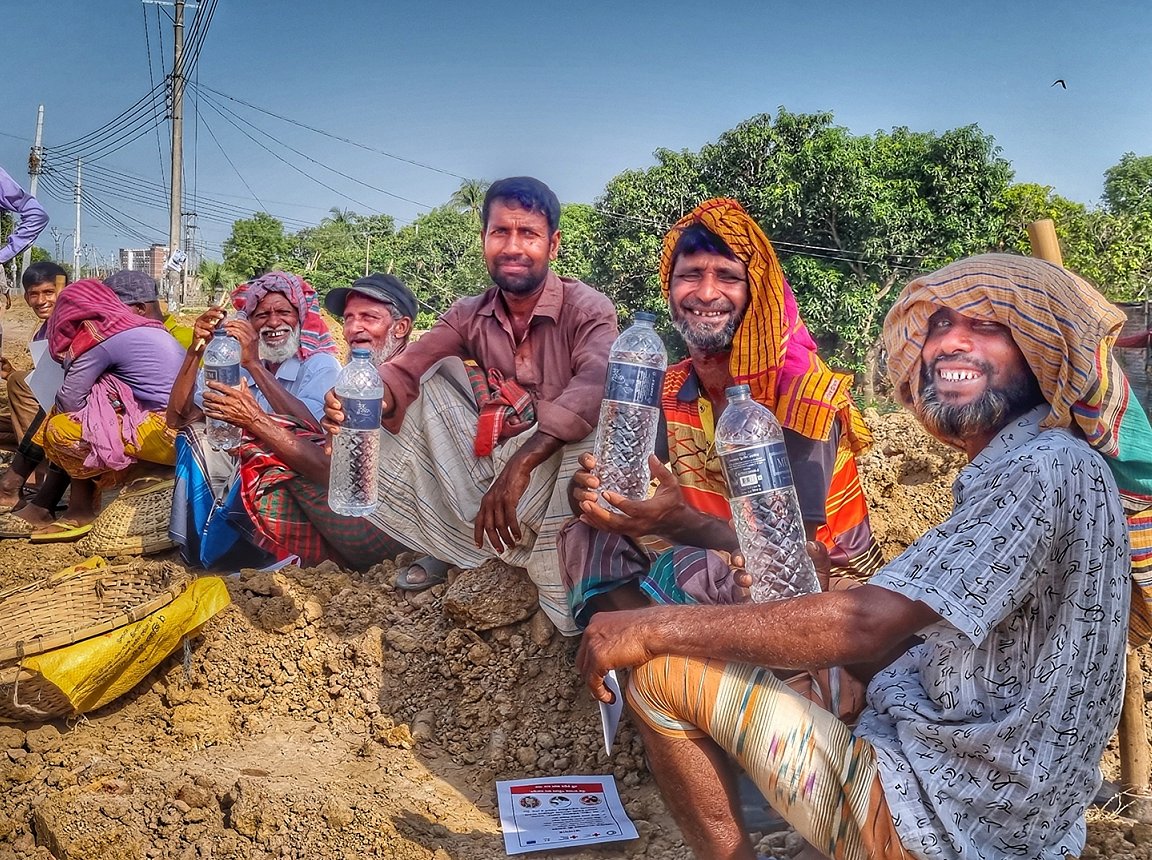 2 June 2023
By the IFRC

(This story first appeared for on the IFRC website earlier today, 2 June, #HeatActionDay2023; it has been edited here for length. The IFRC launched its first global Heat Action Day in June last year, mobilizing branches and partners in over 50 cities to hold awareness-raising events about ways to reduce severe impacts of extreme heat.)
Did you know that heatwaves are becoming more frequent, longer, hotter, and deadlier due to climate change? Every year, they put millions of people at risk of heat-related illnesses and claim the lives of thousands of others.
But the threats heatwaves pose are preventable. And the steps that we can take to protect ourselves, our friends and our families from extreme heat are simple and affordable.
We can reliably forecast heatwaves in most places, so you usually have time to prepare.
Last June, in Satmatha, Bangladesh, volunteers from the Bangladesh Red Crescent set up a stage in the heart of the city where they gave creative public performances for Heat Action Day 2022.
From poetry to comedy, dance to drama, volunteers performed their hearts out – all in local dialects – to catch people's attention and teach them all about heat risks.
Their performances caused so much of a stir that they made it into national news in print and digital – spreading the word on how to #BeatTheHeat even further.
Rehydrate

In the town of Kandi, in West Bengal, Indian Red Cross Society volunteers took to the streets last year when temperatures soared.
During a severe heatwave that struck the region, they set up purified drinking-water points at their branch office, at bus stops, and outside hospitals so that members of the public could rehydrate.
Making themselves known with big, colourful parasols and giant barrels of water, they brought shade, refreshment and smiles to their local community.
The Spanish Red Cross has a long history of supporting communities across the country to stay safe during the summer heat. Their volunteers conduct a lot of outreach – through social media, phone calls and street mobilization – to share tips on how people can stay cool.
They also check on older people and those with chronic illnesses who are at particular risk when temperatures rise. And in some regions, volunteers venture out into their communities on really hot days to hand out water, paper fans and caps.
Water and sunscreen
Extreme heat doesn't just put people's health at risk; it can take a big toll on people's livelihoods too.
In Uruguay this year, prolonged periods of extreme heat and a lack of rain have led to droughts, which are causing huge damage to farming and agriculture.
To help communities cope, Uruguayan Red Cross volunteers have been sharing information on how people can protect themselves and their livestock during heatwaves.
With support from the IFRC's Disaster Response Emergency Fund, they've also been providing water and sunscreen and are offering cash assistance to families who are most affected.

Other helpful resources about heat are the IFRC guide for urban Red Cross and Red Crescent branches, the report Extreme heat: Preparing for the heatwaves of the future, and the Global Disaster Preparedness Centre heat action toolkit.

The Climate Centre's Roop Singh writes: On the second-ever global Heat Action Day, Red Cross and Red Crescent volunteers are on the ground making sure communities know how to stay safe during a heatwave.

With the many early-season heatwaves we've seen so far this year, Heat Action Day is as relevant as ever to make sure that communities are prepared for the hot months ahead.
Our podcast, Can't Take the Heat, explores the biggest challenges posed by climate change, including these more intense and frequent heatwaves, from a humanitarian perspective, asking what are the big solutions in the works and how do we make them happen.
It features international experts, including leading scientists developing climate solutions and humanitarian volunteers telling stories of climate change from the front lines of disasters.
With IFRC support, Bangladesh Red Crescent volunteers are pictured out and about this week distributing drinking water and offering with advice on how to stay safe during the latest extreme heat to affect the country. Heat Action Day 2023 comes as many countries in Asia are seeing another round of extreme temperatures from late May, normally the start of the cooler monsoon season, after earlier punishing heatwaves in April. Media reports yesterday said seasonal records had been set in China, South-East Asia and elsewhere, with experts warning there is more to come. (Photo: @RaquibRony)