Uganda's Red Cross and met authority sign MOU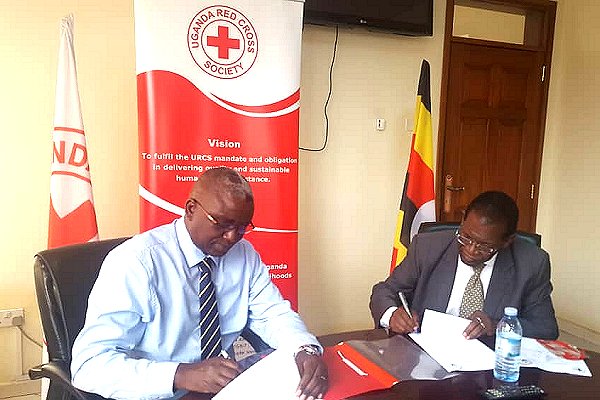 8 August 2018
The Uganda Red Cross Society (URCS) last Friday became the latest National Society to sign a memorandum of understanding with its National Meteorological Authority (UNMA), expanding its existing operational support in critical areas and reflecting a joint desire to "develop cooperation in fields related to their mandates".
Among other measures, the two organizations will now consult and exchange publications on matters of common interest, meet at least once a year, and provide each other with focal points.
The five-year MOU – signed in Kampala by UNMA Executive Director Dr Festus Luboyera and URCS Secretary General Robert Kwesiga – will renew automatically unless either side decides otherwise.
It adds: "Weather and climate is an important factor in the social and economic development of the country as it has major influences on all other sectors of the economy."
'Water resources'
The UNMA, it says, is the country's "authoritative voice on the state and behaviour of Uganda's atmosphere, its interaction with geographical and natural land forms, the climate and the weather it produces, and the resulting distribution of water resources."
The MOU speaks of the desire of the Red Cross to incorporate "science-based climate information into planning policy and practice" as part of its current strategy for reducing risk.
In November 2015, Uganda saw the first full use of forecast-based financing by the Red Cross Red Crescent anywhere in the world when the URCS distributed preparedness items to flood-prone communities in Kapelebyong sub-county.
The IFRC secretariat itself signed an MOU with the World Meteorological Organization in 2013 "to reduce the risk of climate-related hazards facing vulnerable communities around the world."
The new five-year MOU was signed in Kampala by UNMA Executive Director Dr Festus Luboyera (at right) and URCS Secretary General Robert Kwesiga. (Photo: URCS)