North Korea declares emergency over heatwave threat to people and crops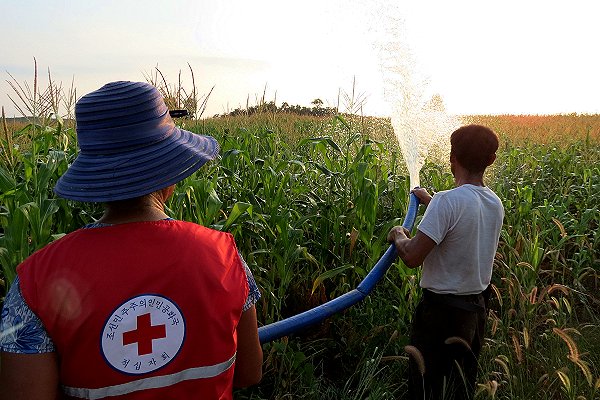 7 August 2018
Official media in the Democratic People's Republic of Korea (DPRK) say the government has declared a state of emergency because of a life-threatening heatwave that is affecting agricultural production. 
An IFRC information bulletin Saturday said the DPRK Red Cross officially informed its country office of a "developing emergency" in South Pyongan and South Hamgyong provinces due to a heatwave that has seen temperatures pass 40°C and is forecast to last at least until next week.
There have been heatstroke casualties among elderly people and children, the IFRC said, and it was feared local yields, especially of maize, would be "significantly reduced".
Mobile pumps
Chronic food insecurity and malnutrition among children are already widespread in the DPRK, the bulletin adds, and the 2017 Global Hunger Index rated the situation there as "serious"; more 10 million people, or 41 per cent of the population, are undernourished.
The DPRK Red Cross is now focused, among other measures, on helping people avoid heatstroke and deploying 20 mobile water pumps in the driest areas to provide emergency irrigation (photo).
Farmers are now working in the early morning and late afternoon to avoid heatstroke and markets are opening at 18:00, four hours later than usual.
The National Society will also collect timely data from government sources, including the meteorological service, the IFRC adds, to help gauge its future actions. 
'Weather patterns'
The official Rodong Sinmun newspaper is quoted as describing the current heatwave conditions in North Korea as "unprecedented".
In addition to difficult terrain and a lack of agricultural inputs, "changing weather patterns have left DPRK vulnerable to droughts and floods," the IFRC says.
In June 2015 the government declared an emergency after severe drought affected food producing provinces.
Extreme heat has been affecting the whole Korean peninsula and Japan since July.
DPRK Red Cross personnel using mobile pumps to help farmers trying to keep maize alive in an intense heatwave that is also causing human casualties. (Photo: IFRC)