Preliminary data shows the world just had the hottest week on record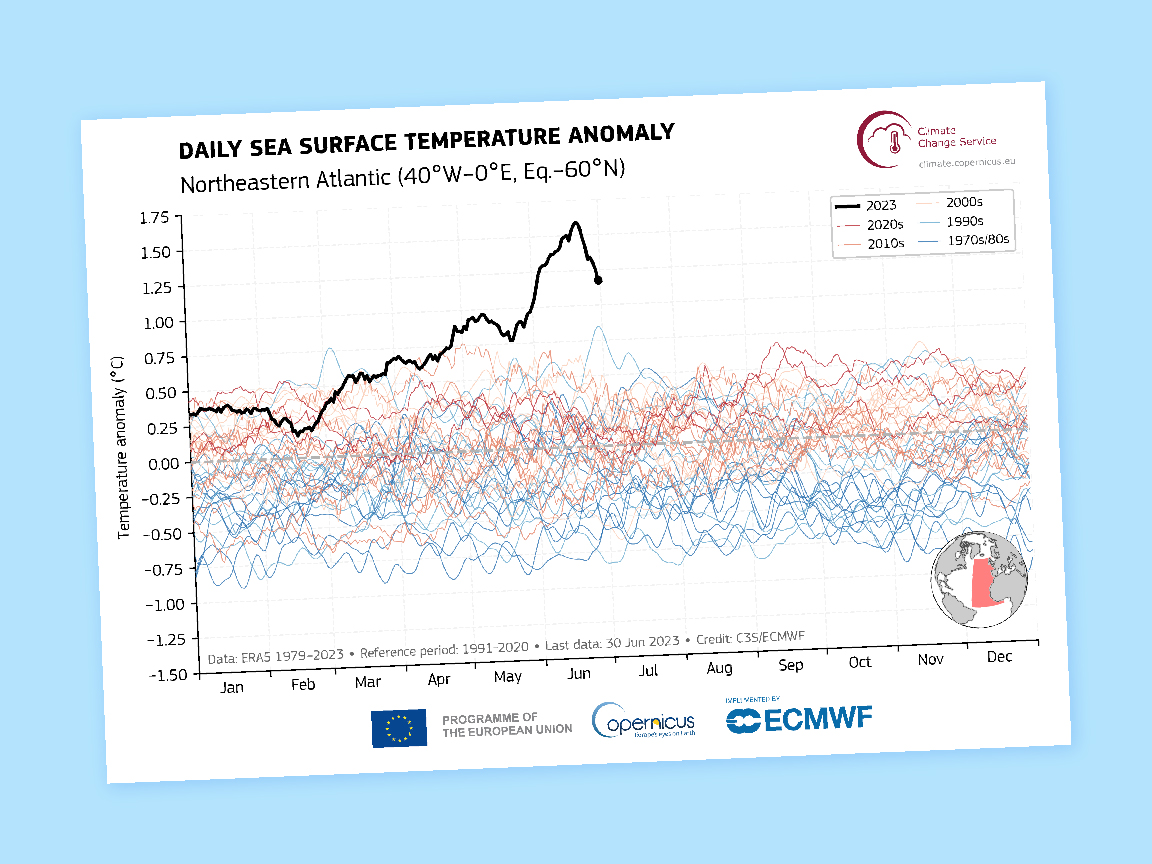 11 July 2023
By the Climate Centre

Preliminary data from Japanese scientists shows the average global temperature on 7 July was 17.24°C – or 0.3°C above the previous record set on 16 August 2016, a year with warming from a strong El Niño, the World Meteorological Organization said yesterday.
The Japanese data is not yet confirmed, the WMO adds, but is consistent with other preliminary results from the European Centre for Medium-Range Weather Forecasts (ECMWF).
June was the hottest month on record at 0.5°C above the 1991–2020 average; Antarctic sea ice was 17 below average, the lowest for that month since satellite observations began and breaking the previous June record by a large margin.
Christopher Hewitt, WMO Director of Climate Services, said: "The exceptional warmth in June and at the start of July occurred at the onset of the development of El Niño, which is expected to further fuel the heat both on land and in the oceans, and lead to more extreme temperatures and marine heatwaves.

"We are in uncharted territory and we can expect more records to fall as El Niño develops further and these impacts will extend into 2024. This is worrying news for the planet."
'This will have a knock-on effect on ecosystems and fisheries and on our weather'
In its press release, the WMO quotes an ECMWF report that June global ocean temperatures "reached unprecedented levels", with the North Atlantic (image) "exceptionally warm … with several extreme marine heatwaves".
Michael Sparrow, head of WMO's World Climate Research Department, said: "The temperatures in the North Atlantic are unprecedented and of great concern. They are much higher than anything the models predicted. This will have a knock-on effect on ecosystems and fisheries and on our weather."
Meanwhile, a Europe-wide study attempting to quantify deaths associated with last year's record hot summer was also published yesterday in the journal Nature Medicine.
It estimated there were nearly 63,000 heat-related deaths in Europe in 2022, almost all occurring between the end of May and the first week of September.
France, Germany, Greece, Italy, Spain and the UK (alphabetically) suffered the highest absolute number of fatalities; in relative terms, the highest mortality rates were found in countries on the Mediterranean.
The authors write that the "rate of [global] warming observed during the last decade emphasizes the urgent need for re-evaluation and strengthening of adaptation strategies.

"Indeed, in the absence of further adaptation to the summer heat … we would expect a rapid increase to unprecedented summer heat-related mortality numbers in the coming years."
The temperature of the North Atlantic was "off the charts" last month, says the WMO. (Image: ECMWF)