International assistance arrives in Sweden to help fight '70 forest fires, large and small'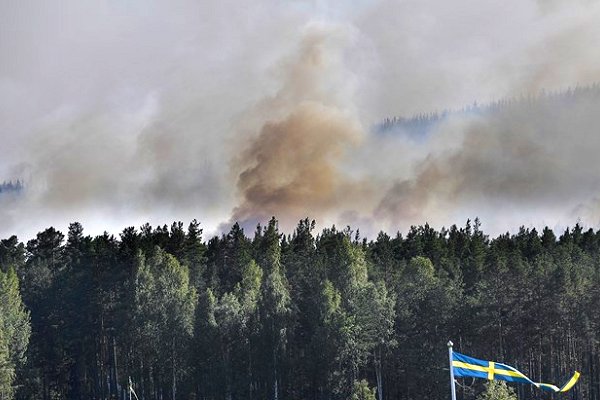 20 July 2018
The Swedish Red Cross says a combination of very little rain and hot weather has placed many parts of the country at "extreme" risk of forest fires, and it has issued detailed guidance to the public on its website about how to stay safe.
"Some 70 fires are blazing, large and small," the National Society says, "and the situation is serious as the hot, dry weather is expected to continue in the coming days."
If people discover a new fire, the Swedish Red Cross advises, they should warn others who may be threatened, move to a safe location, and raise the alarm, not assuming others have done so.
"If you are asked to evacuate, pack a bag and go as soon as possible to the advised meeting place."
'Historic outbreaks'
The Swedish government yesterday said it had requested help from EU's Emergency Response Coordination Centre, and France, Italy and Norway had sent firefighting aircraft.
The BBC today reported fires "have taken hold across the country", reaching as far north as Lapland and the Arctic Circle.
The Swedish National Weather Service today said the risk of fires was "very great or extremely great in most of the country".
NASA, publishing satellite photos of the blazes on the Earth Observatory website, said "[s]corching, dry conditions are spurring historic wildfire outbreaks across Sweden", the largest of which was in Ljusdal, some 300km north of Stockholm.
Drought
"The fires are unusual for this time of the year as Sweden's summers are normally mild," said NASA. But this year several cities had "experienced their hottest May days ever in 150 years of record-keeping.
"The temperatures cooled off in June but returned to high heat in July, when the Weather Service warned of extremely high temperatures" which had combined with very low rainfall.
Media reports yesterday said it was Sweden's worst drought since 1944, with other parts of the region experiencing unusually hot and dry conditions.
The Russian port of Murmansk near the Arctic Circle reportedly registered 32ºC  – 17 degrees above normal and less than one short of a record.
Forest fires blaze the length of Sweden amid unusually hot and dry conditions, reaching as far north as Lapland and the Arctic Circle. (Photo: Radio Sweden)