10,000 young Red Crescent volunteers in Iran plant ten trees each for people and planet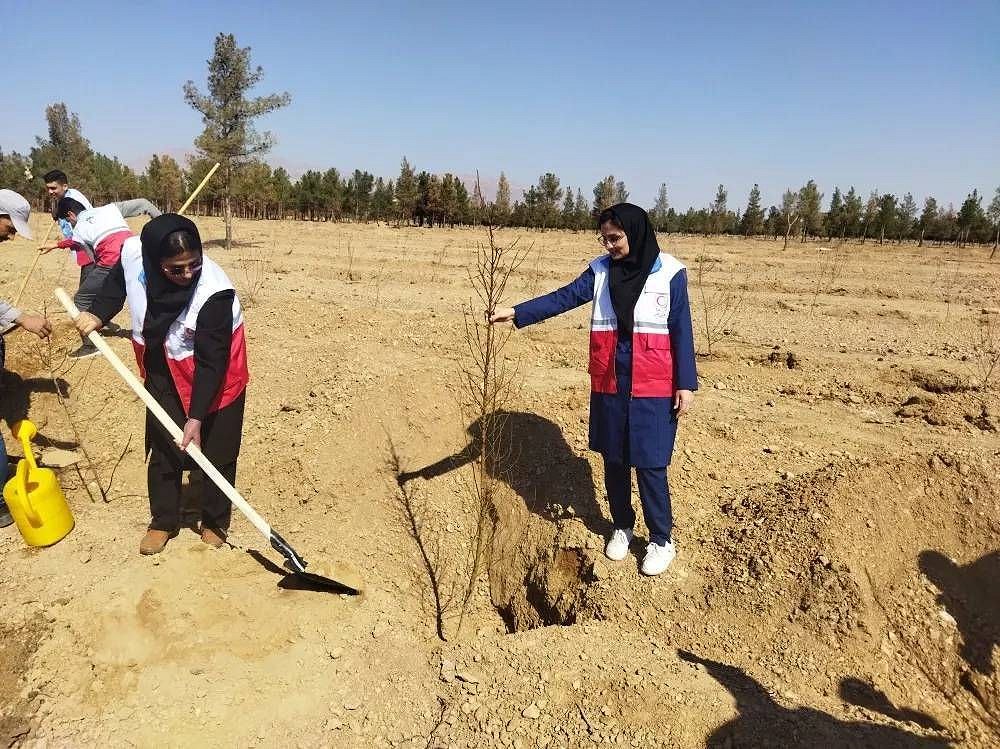 12 July 2023
By the IFRC
(This story appeared first on the IFRC website on Monday.)
Planting a single tree may seem like one small act of kindness to our planet. But when thousands of people join together, we can grow entire forests that help protect our world as we know it.
Iran is highly vulnerable to climate change. In recent years, the country has suffered from both severe flooding and droughts linked to our warming world.
In July 2022 alone, flash flooding killed 90 people, destroyed communities, homes, and livelihoods across the country, and left thousands displaced.
Iranian Red Crescent volunteers are experienced in responding to disasters like these, deploying quickly to provide lifesaving first aid and rescue services, and food, water, shelter, health services, and long-term support to recover.
Tree power

But as well as just responding to climate-related disasters, the Iranian Red Crescent Society is increasingly working to prepare for them, and even prevent or reduce their impact on communities.
And to do that, they're working with nature. Specifically, our planet's superheroes: trees.
Trees play a critical role in fighting climate change. Most people know that by absorbing carbon, producing oxygen, providing shade and cooling, and maintaining soil health, trees contribute to the overall health of our planet.
But did you also know that trees can also help protect us from weather-related disasters?
Trees can soak up excess water during floods and prevent or slow down run-off; hold rainwater in the ground to reduce damage caused by droughts; protect coastal communities from tidal surges; help stop or slow down avalanches and mud flows; and hold down soil to stabilize the ground during earthquakes and landslides.

Understanding this power of trees to protect communities, the IRCS launched a nationwide tree-planting campaign earlier this year to help mitigate the impacts of climate change across the country.
Saplings

Together, their young volunteers planted a staggering 100,000 trees in the space of just 20 minutes.
Equipped with shovels, watering cans, bags of soil, and tree saplings, more than 10,000 youth volunteers got to work digging holes and planting trees at an incredible pace – showing unity and positive action in the face of the climate crisis.
"Every individual can make a difference, whether it's through volunteering with local organizations, supporting policies that promote sustainability, or making individual lifestyle changes," said Movahed Najjar Nahavandi, IRCS youth volunteer from Mazandaran province.

"I encourage volunteers and non-volunteers around the world to come together and act on climate change."
Climate change is a complex problem that requires urgent action at the local, national, and global level. But by working together, and by working with nature, we can make a difference and help protect our communities.
The Red Crescent in Iran launched a nationwide tree-planting campaign earlier this year to help mitigate the impacts of climate change across the country. Their young volunteers planted 100,000 trees in just 20 minutes. The IFRC's work worldwide with nature-based solutions and climate-smart risk reduction is helping to minimize the impact on communities of climate-related hazards. (Photo: IRCS via IFRC)