'It's raining like never before' (in Japan)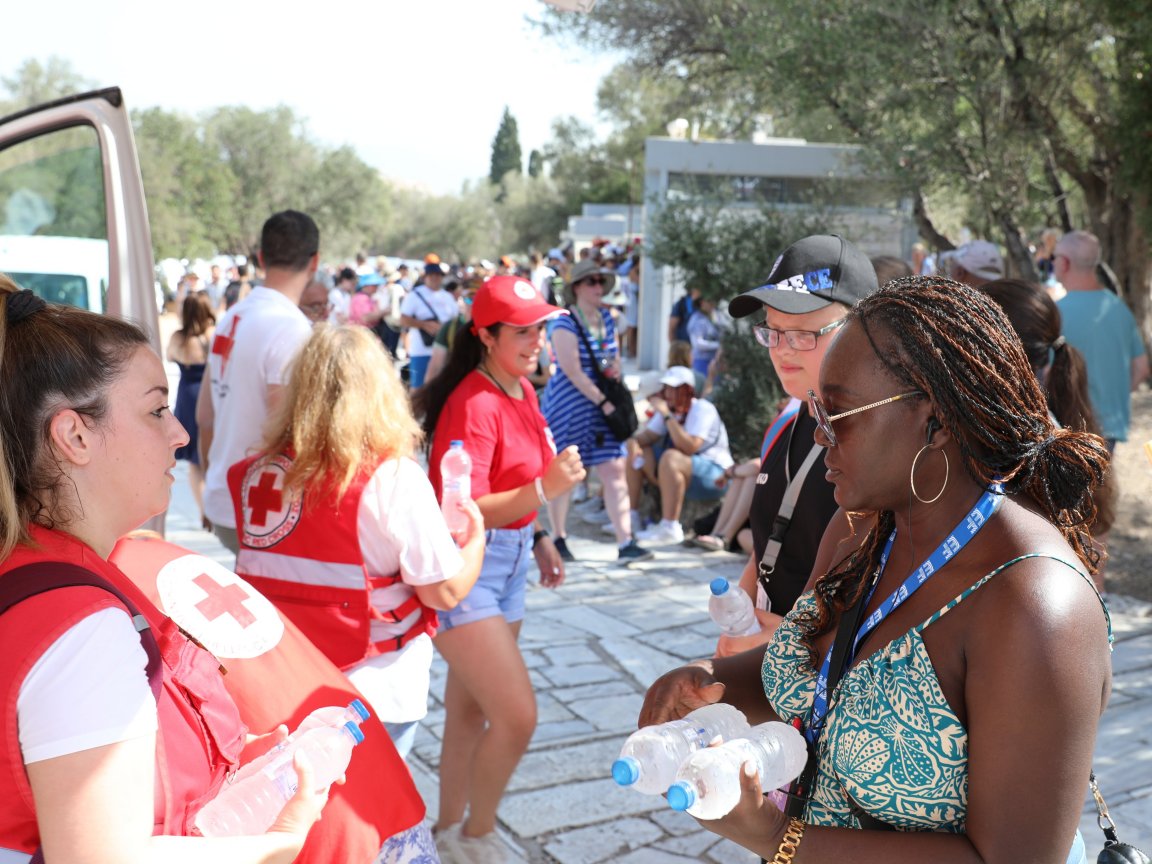 14 July 2023
By the Climate Centre

Temperatures up to 5°C above average are forecast to continue in the Mediterranean region at least for two weeks and probably into August, the World Meteorological Organization's European centre, operated by the German Weather Service, said yesterday.
The temperature of the Mediterranean sea itself will be "exceptionally high" – at least 4°C above average in the west of the maritime region.
National Societies in Europe have this week been out and about to keep their publics safe in the extreme heat – including in countries where people are relatively accustomed to hot summers. Among others (alphabetically)…
*The ten top tips from the French Red Cross include the key point of not leaving animals or children in parked cars;
*The Greek Red Cross (photo) has been handing out drinking water and telling people visiting ancient sites to be sure to stay hydrated;
*The Italian Red Cross is using its 1520 national response telephone number to keep tabs on elderly people who, with the very young, are especially vulnerable to extreme heat.
*The Portuguese Red Cross used social media to flag safety advice, warning people to use sunscreen and wide-brimmed hats;
*The Spanish Red Cross has supplemented its advice about heat with a warning that the first priority amid the heightened risk of forest fires is protection from smoke.
Red alert
On the other side of the Mediterranean, North Africa is also suffering: the Moroccan meteorological service, for example, yesterday issued a red alert for extreme heat in the south, with maximum temperatures approaching 50°C.
The WMO says extreme heat has this week been widespread across the northern hemisphere, where summer is peaking this month.
A heatwave is intensifying across the southern US, according to the National Weather Service, which adds that some places could register their all-time records.
On Wednesday, the American Red Cross said: "Heat warnings and advisories now stretch from the desert south-west to the South, the Gulf Coast and Florida. The combination of heat and humidity will result in it feeling like it's 110 degrees [43°C] or higher."
More than 500 wildfires were out of control as of Tuesday, according to the Canadian Interagency Forest Fire Centre, with more than 9 million hectares already burnt this year – compared to the ten-year average of about 800,000 hectares. The Red Cross there has reissued its "before, during and after" guidance on what to do when fires threaten.
Parts of China including Beijing have also suffered from an extended heatwave.
'We have to step up efforts to help society adapt to what's becoming the new normal'
But while intense heat affecting some parts of the northern hemisphere, heavy precipitation has caused devastating floods and loss of life in others.
"It's raining like never before," the WMO quotes meteorologists at the Japanese Meteorological Agency as saying. On Monday at least two new daily rainfall records of 376mm and 361.5mm were set at two stations on Kyushu – the third largest of the country's main islands, and Japan too has been experiencing extreme heat.
In the US, parts of New England face more torrential rainfall after serious floods at the start of July; floods in north-west China are reported to have killed 15 people; while in northern India, roads and bridges collapsed and houses were swept away as rivers overflowed during heavy monsoon rain.

Delhi marked its wettest July day in 40 years, with 153mm (six inches) of rain falling in one day, the WMO says.
WMO Secretary-General Petteri Taalas said yesterday: "The extreme weather – an increasingly frequent occurrence in our warming climate – is having a major impact on human health, ecosystems, economies, agriculture, energy and water supplies.

"This underlines the increasing urgency of cutting greenhouse gas emissions as quickly and as deeply as possible. In addition, we have to step up efforts to help society adapt to what is unfortunately becoming the new normal."
The Greek Red Cross has been handing out drinking water and telling people visiting ancient sites to be sure to stay hydrated, but elsewhere in the northern hemisphere during a week of extremes it has been pouring with rain. (Photo: HRC)