IFRC: heatwaves need not be lethal with 'simple, low-cost measures'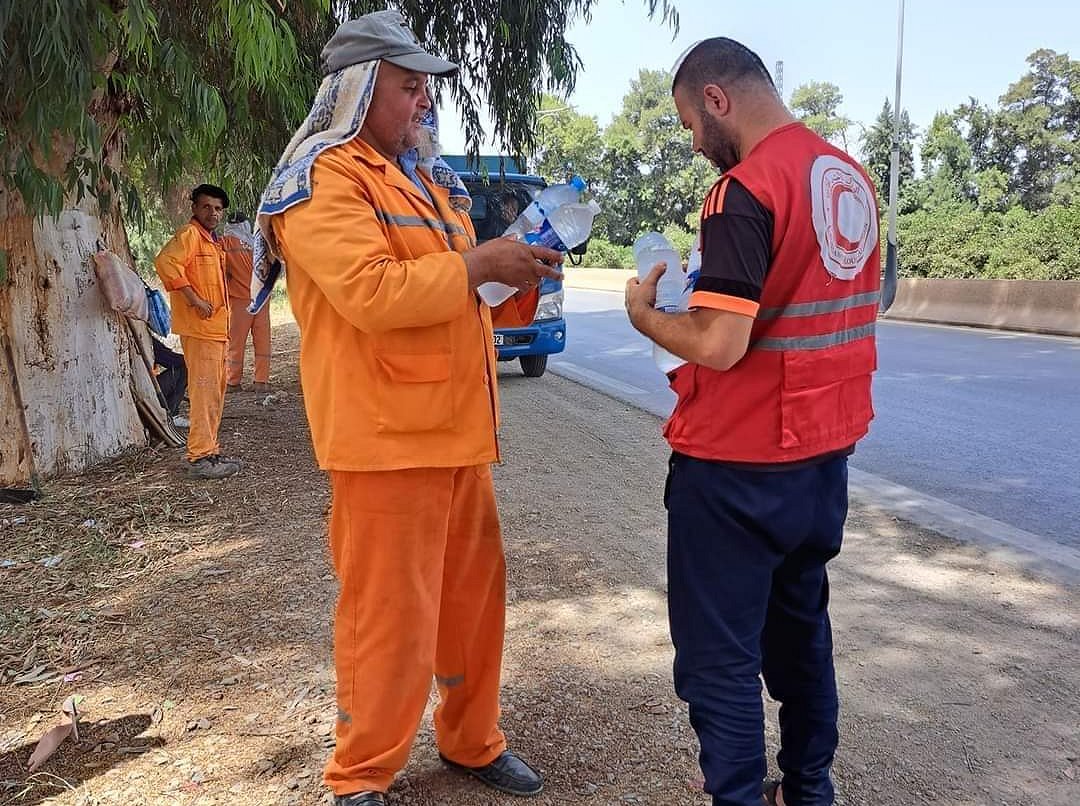 18 July 2023
By the Climate Centre
With red alerts for heat danger issued in at least seven European countries, the IFRC today emphasized that the elderly and people with chronic health conditions are particularly at risk.
Panu Saaristo, the IFRC's emergency health team leader for Europe, told the scheduled media briefing at the UN in Geneva: "Most deaths in heatwaves occur not because of heatstroke, but because of the impact they have on people with pre-existing conditions. Extreme heat can worsen cardiovascular and respiratory diseases."
However, deaths from heatwaves can be "greatly reduced with relatively simple, low-cost action", he added, and National Societies were now implementing them all over the continent and elsewhere.
National Societies in at least two countries affected by the heat have been addressing the humanitarian impacts of related wildfires.
In Turkey, the Red Crescent yesterday reported that fires had broken out in six separate areas – three of which were also affected by the earthquakes in February.
Volunteers have been providing food and relief supplies to evacuated people and drinking water to firefighters.
'Very extreme danger'

In the Canary Islands, the Spanish Red Cross established temporary accommodation for residents of La Palma who were asked to evacuate as firefighters tried to bring wildfires under control; the Spanish army deployed 150 of its own firefighters to assist.
News reports said the blazes began early Saturday and quickly burnt through 4,500 hectares (11,100 acres) of land and at least a dozen homes.
Canary Islands regional president Fernando Clavijo blamed the rapid spread of fire on "the wind, the climate conditions, as well as the heatwave that we are living through".
The Copernicus Emergency Management Service today reported "very extreme danger" of wildfires in several parts of the Spanish mainland; in Puglia, Calabria, Sicily and Sardinia in Italy; and in the Attica and eastern Peloponnese regions of Greece.
In Algeria (photo) and Morocco, meanwhile, where the Red Crescent has also been active in response, temperatures have climbed as high as 48°C.
'Social isolation'

Valerio Mattia, speaking from the Italian Red Cross national response centre, told Al Jazeera this weekend that the National Society's concern was that "the population in general was not aware of the dangers that the heatwave could pose in terms of health".
He continued that "social isolation" resulting from members of vulnerable groups being forced to stay indoors to escape the heat was also a major worry.
"The Italian Red Cross has a 24/7 national response centre to provide information and support on the right procedures to deal with the heatwave" as well as a telephone helpline and an ongoing public-health awareness campaign, he added.

The World Meteorological Organization yesterday said the current temperature record for continental Europe of 48.8°C, measured in Sicily on 11 August 2021, might yet be broken by Cerberus.
"If there are any new extreme temperature records during the ongoing heatwaves, we will issue a quick preliminary assessment and then start detailed evaluations as part of our painstaking verification process," according to Randall Cerveny, WMO Weather and Climate Extremes Rapporteur.
The WMO maintains an official archive of weather and climate extremes, including temperature, rainfall, aridity, lightning and weather-related deaths; the highest confirmed temperature in the modern era is 56.7°C, observed at Furnace Creek in California in 1913.
The Red Crescent in Algeria last weekend distributing drinking water to sanitation engineers and passers-by. Generally speaking, North Africa has seen even higher temperatures in the current heatwave than countries on the other side of the Mediterranean. (Photo: CRA via social media)