With 3m people affected by floods in China and Mongolia rain of 'unprecedented intensity', Red Cross confronts extreme weather across E Asia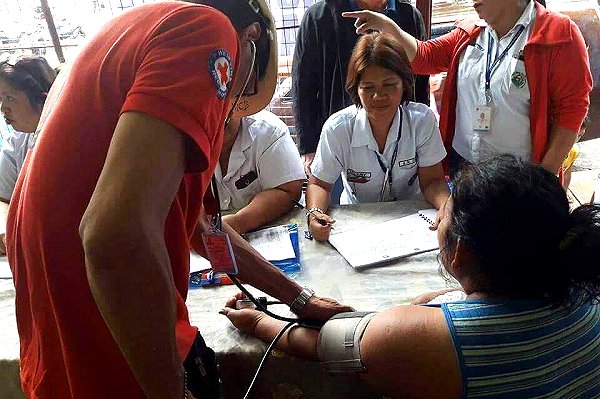 18 July 2018
The IFRC yesterday released nearly US$ 400,000 from its Disaster Relief Emergency Fund to aid relief and recovery efforts on the ground in China, where nearly 3 million people are affected by floods and landslides in Sichuan and Gansu provinces.
The combined effects of a week of all-but continuous heavy rain and Typhoons Prapiroon and Maria had damaged at least 50,000 houses, the IFRC said.
The humanitarian cash grant would help the Chinese Red Cross "reach some of the people most in need, including the displaced, older people, female-headed households, people with disabilities, and households with small children," said Gwendolyn Pang, head of its Beijing office.
"People will receive practical help like raincoats, flashlights, mosquito nets, tableware, toothbrushes, towels, clothes, blankets, quilts and tents."
Continuous rain was causing houses already damaged to collapse altogether, and more rain is expected over the next few coming weeks.
'A 24-hour low of 42.6°C near Muscat is believed to be
the highest such temperature ever recorded by a thermometer'
Also this week, the IFRC issued another cash grant of more than US$ 160,000 for flood relief in Mongolia, where what it described as "rainfall of unprecedented intensity" in the first week of July triggered flash floods in several parts of the country, affecting nearly 800 households and causing some deaths.
By far the largest number of affected families live in Khovd province in traditional circular ger homes, 200 of which had been completely destroyed.
A World Meteorological Organization statement last week said "[h]igh-impact weather, including extreme heat and disastrous precipitation, has marked the early part of summer in the northern hemisphere."
The WMO said the flood disaster that began in late June in Japan was the worst in decades "with many daily rainfall records broken".
Total precipitation at many observation sites in Japan had reached up to four times the monthly average.
Warnings
At the same time, the WMO listed "extreme and unusual [July] temperatures" in the Middle East, North Africa, Europe, Canada, California and Siberia.
A 24-hour low of 42.6°C near Muscat, Oman's capital, "is believed to be the highest such temperature ever recorded by a thermometer," the IFRC partner agency said.
Extreme rain has also now given way to extreme heat in Japan, and a Japanese Meteorological Agency map shows 200 out of 927 stations recorded more than 35°C on 15 July.
JMA warnings of potentially hazardous high temperatures were today in force for much of the country.
'Long-term trend'?
In the Philippines hundreds of people were this week forced to flee their homes near the River Marikina, just east of Manila, as water levels continued to rise after Tropical Storm Son-Tinh (known locally as Henry) combined with heavy seasonal monsoon rain.
The local chapter of the Philippine Red Cross set up a welfare desk and first aid station at a gym (photo) to assist evacuees and is also providing hot meals.
"Episodes of extreme heat and precipitation are increasing as a result of climate change," the WMO statement last week added.
"Although it is not possible to attribute the individual extreme events of June and July to climate change, they are compatible with the general long-term trend due to rising concentrations of greenhouse gases."
A Philippine Red Cross first aid station in Marikina, near Manila, where water levels have been rising after the passage of Tropical Storm Son-Tinh. Across East Asia, the Red Cross is grappling with the aftermath of extreme precipitation and now in Japan extreme heat. (Photo: @DickGordonDG)