North American and European heatwaves virtually impossible without climate change – study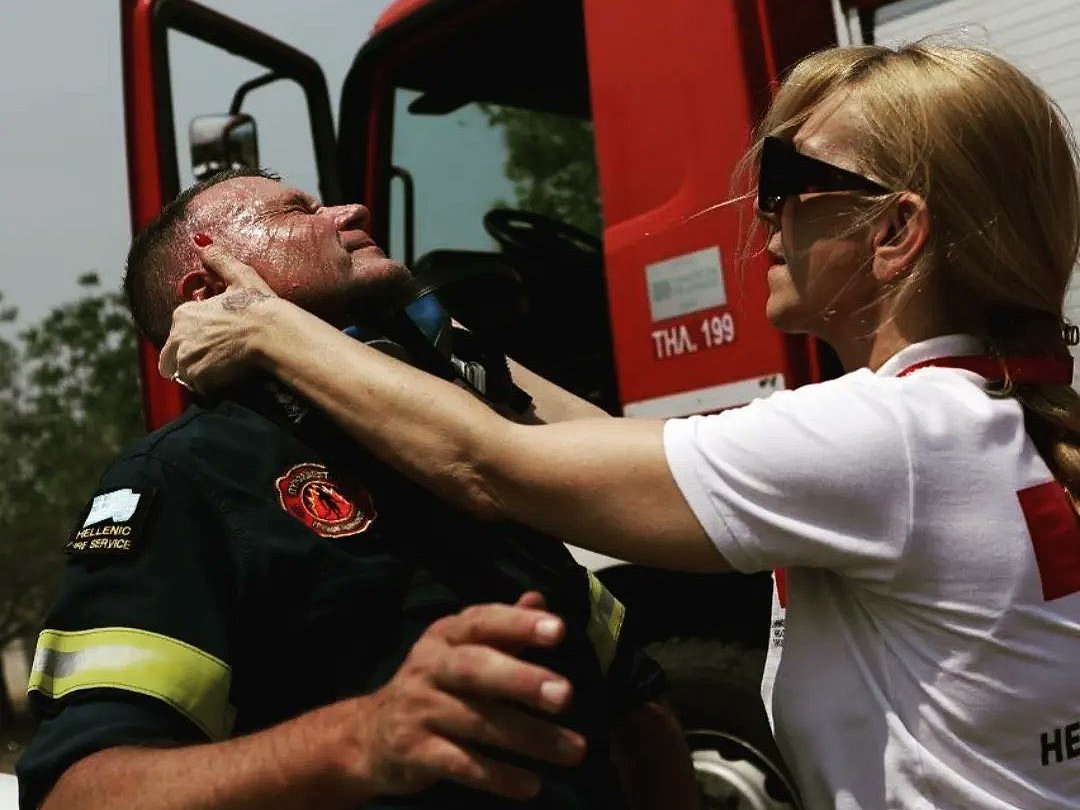 25 July 2023
By the Climate Centre
The death toll as wildfires swept across parts of Algeria has risen to 34 people, including ten soldiers, the country's interior ministry said yesterday, while 8,000 firefighters battled to bring the flames under control.
The authorities said firefighting operations were continuing in the Boumerdes, Bouira, Tizi Ouzou, Jijel, Bejaia and Skikda regions, and Red Crescent volunteers were out in force distributing drinking water and helping with first and evacuation.
In a further indication of the extreme July on both sides of the Mediterranean, wildfires were today reported to be raging in Sicily after weeks of extreme heat, while northern regions of Italy saw violent storms and high winds.
The Greek armed forces today declared three days of mourning for two pilots who died after their Canadair firefighter aircraft crashed while dousing flames on the island of Evia.
The current heat in the northern summer should no longer be seen as an unusual event and future heatwaves will be hotter and even more common if emissions are not rapidly cut, scientists from the World Weather Attribution group, meanwhile, said today.
Events like these – once virtually impossible – can now be expected approximately every 15 years in North America, every ten years in southern Europe, and every five years in China.
'We need a cultural shift in how we think about extreme heat: it's deadly and on the rise'
Emissions from human activity made the seasonal heatwaves 2.5°C hotter in Europe, 2°C hotter in North America, and 1°C in China.
If global temperatures rise 2°C – as will happen in around 30 years unless every country signed up to the Paris Agreement fully implements it – "events like this will become even more frequent, occurring every two to five years," says the team, who include three specialists from the Climate Centre.
Acting Climate Centre Director Julie Arrighi, one of the WWA authors, said today: "We need a cultural shift in the way we think about extreme heat: it's deadly and rapidly on the rise.

"It is crucial to scale up warning systems, heat action plans and investments in long-term adaptation measures, including urban planning, and bolster the resilience of critical systems such as health, electricity, water and transport."

National Societies in the countries affected by the extreme heat have been working hard to keep their publics safe, including help with emergency evacuations, and assist firefighters with drinking water and first aid (photo, Greece).
"Deaths from heatwaves can be greatly reduced with relatively simple solutions," said Panu Saaristo, Manager for Health and Care at IFRC Europe.
"That is why National Societies around Europe are implementing these simple, low-cost actions to help populations struggling with extreme heat."
First aid stations
*The Italian and Spanish Red Cross are checking on elderly people via telephone to ensure they are safe from heat, have the supplies they need, and are not becoming isolated.
*The Portuguese and French Red Cross are running social media campaigns educating people on the health risks from heat and sharing tips on how to stay safe.
*In Greece the Red Cross is distributing water in streets and reminding locals and tourists of safer behaviour during heatwaves.
*The Romanian Red Cross has opened first aid stations in cities to provide support to people affected by heat and make them aware of health risks.
As other wildfires raged in Greece, Russia, Spain and Turkey, local Red Cross and Red Crescent societies are on the ground supporting people affected in their homes or in shelters, providing first aid, food, water, hygiene kits and much-needed psychosocial support, the IFRC in Europe said today.
The British Red Cross has updated its Europe page with a new blog on the "sustained and unprecedented heatwaves" and wildfires, which caused the evacuation from homes and resorts on the Greek island of Rhodes of more 20,000 people, including many British tourists.
The National Society has also issued a social media asset on how to prepare for, prevent, and respond to an approaching wildfire.
Greek Red Cross volunteers providing first aid to firefighters affected by heat and smoke. (Photo: Hellenic Red Cross)