'I have lived here all my life. I have never seen anything like this'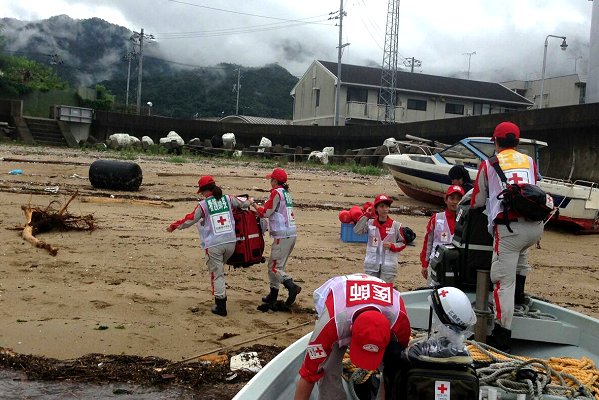 9 July 2018
Japanese public broadcaster NHK Monday reported that an all-out search and rescue operation is now underway after a flood disaster that claimed at least 112 lives and left many other people missing or stranded.
Late last week, just as the Asian Ministerial Conference on Disaster Risk Reduction (AMCDRR) was winding up in the Mongolian capital, Ulaanbaatar, a period of record-breaking seasonal rainfall began to wreak havoc in the west of Japan.
Since Thursday, some parts of the country are said to have had three times the usual rainfall for the whole of July.
The Japan Times quoted rice farmer Masanori Hiramoto, 68, as saying: "I have lived here all my life. I have never seen anything like this."
Most houses in his small community of Mihara stand on elevated ground above the rice fields, the paper said, but "surging water swallowed fields and homes alike".
Evacuation orders
The Japanese Red Cross launched a major response, and reported that in Saka, Hiroshima prefecture, a badly affected area, one rescue team was forced to access a local school that had been cut off in a landslide by boat (photo).
The National Society was Sunday conducting assessments and distributing emergency supplies, including 8,500 blankets and 6,400 emergency packs to people in evacuation centres, the IFRC tweeted.
At one point over the weekend, evacuation orders or advisories were in effect for more than 4 million people in 23 prefectures, while more than 30,000 people were staying at evacuation centres, officials said.
As the flood disaster began to unfold in Japan, ministers at AMCDRR – in their their Ulaanbaatar Declaration – expressed "deep concern at the continuing impact of disasters in the region, resulting in recurrent loss of human lives and livelihoods, displacement of people, and environmental, economic, social and material damages".
The declaration recognized the need to focus on evolving risk factors "such as unplanned and rapid urbanization, development, migration, population growth, and climate change and poverty", adding that "science and technology…will continue to have a significant role in achieving the 2030 Agenda for Sustainable Development.
  'The big picture is that the region is under assault
    from extreme-weather events and climate change.
    Earthquakes and tsunamis threaten heavily populated areas'
Highlighting the issue of disaster and displacement at the end of the AMCDRR meeting, the IFRC's director for the Asia-Pacific region, Xavier Castellanos, said "disasters and crises are forcing millions of people to flee their homes. The humanitarian challenges they encounter are enormous."
Priority areas in the IFRC's own statement of action (risk-reduction case studies) included providing greater support to local actors to protect lives and livelihoods and work for "resilience, effective climate-risk management, early action and preparedness", a press release from the organization said Friday.
"This disaster in Japan has been triggered by rainfall that at the very least appears unusual," Climate Centre Director Maarten van Aalst said Sunday.
"It's a painful reminder that even in developed countries with high levels of preparedness like Japan, rising risks pose severe challenges."
'Imminent risk'
Responding to the ministerial declaration in Ulaanbaatar, the UN Special Representative for Disaster Risk Reduction, Mami Mizutori, told Friday's closing ceremony: "The big picture is that the region is under increasing assault from extreme-weather events and climate change. Earthquakes and tsunamis [also] threaten heavily populated areas.
"It is estimated that 11.4 million people were forcibly displaced from their homes by disaster events last year.
"It is clear that it will be hard to eradicate poverty and eliminate hunger in parts of Asia if stronger action is not taken at local level to reduce disaster risk and ensure the protection of all sections of society, particularly the poor."
Over the weekend Japan's meteorological agency, quoted by NHK, spoke of "an imminent risk of a serious disaster on a scale that has not been seen for several decades."
Meanwhile, the IFRC Monday said Typhoon Maria – already dubbed a super storm by some sources – could bring heavy rain, mudslides, damaging winds and storm surges in Japan's southernmost islands, northern Taiwan and eastern China; Red Cross teams were keeping watch and distributing relief supplies.
A Japanese Red Cross team lands by boat in a part of Hiroshima prefecture cut off by landslides in the most intense seasonal rain seen for decades. (Photo: JRC)