AMCDRR: Integrated risk management puts down roots in Indonesia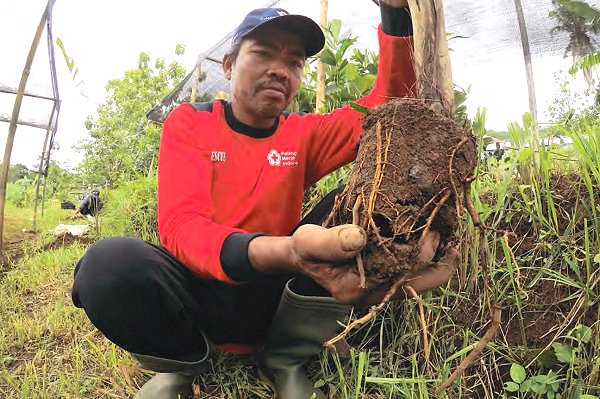 5 July 2018
The Partners for Resilience country team in Indonesia this week published a compendium of case studies of PfR work in the country – "examples of how communities are uniquely affected by climate change and how PfR and its stakeholders work together and come up with unique solutions," an introduction says.
It adds that measures based on the principal PfR operating model of integrated risk management "further help strengthen community resilience and secure livelihoods".
Working with the Indonesian Red Cross (PMI), Karina (Caritas International), the IFRC country team and other local partners, the international PfR agencies in Indonesia are CARE, the Climate Centre, Cordaid and Wetlands International.   
Indonesia is largest archipelago nation in the world and is prone to earthquakes and tsunamis as well as climate-related hazards like floods, droughts, storms, landslides and wildfires.
"Disasters wipe out development progress and are being exacerbated by climate change, population growth, ecosystem degradation, and uncontrolled economic development," says the new PfR report, A journey for a thousand smiles – Stories of resilient people.
"The poorest and the most vulnerable people… are the most exposed to hazards and least able to minimize [them]", it adds.
                  'After planting purple sweet potatoes
                  we can consume vegetables every day,
                  even during the dry season'
The report has been compiled to coincide with the 2018 Asian Ministerial Conference on Disaster Risk Reduction (AMCDRR) which ends today in the Mongolian capital, Ulaanbaatar.
Half of the ten case studies involve strategies for dealing with flood risk, including both protective mangrove planting and restoration as well as early warning.
Most involve cultivation of one kind or another – including in East Nusa Tenggara (NTT) province drought-resistant purple sweet potato, versatile and economically valuable sugar palms in Central Java, and an urban-farming project in Jakarta.
'Excess yield'
"After planting purple sweet potatoes we can consume vegetables every day, even during the dry season," says Yunyulita Lakilaf, a woman farmer in NTT's Timor Tengah Selatan district, one of several PfR testimonies in the Thousand Smiles document.
"These root vegetables can meet our food needs, even when we face failure of the corn harvest. We can sell the excess yield in the market for cash to meet our daily needs."
The PfR compendium quotes a 2015 government survey as saying that 22 per cent of NTT's population, or more than 1.1m people, live below the poverty line in one of Indonesia's relatively disadvantaged regions.
Gender issues are fully mainstreamed through a programme supported by CARE in NTT, while Wetlands International has introduced the concept of 'bio-rights' – loans that turn into grants for communities which succeed in conserving their environments.
Fishermen
One of the most diverse single programmes in the compendium is another coordinated by CARE and supported by the Netherlands Anton Jurgens Fonds on NTT's Flores Island, which suffers constant strong winds, floods or droughts, landslides and coastal erosion.
The programme deploys a fourfold approach to addressing these problems: sorghum, a nutritious wind-resistant plant, water harvesting and conservation, coastal mangroves, and 'bench terracing' against landslides.
Last year's training for fishermen in the interpretation of weather forecasts, supported by the American Red Cross and the Climate Centre, also features as one of the case studies.   
PMI-trained community members planting sugar palms under the supervision of their village head in Central Java. (Photo: PfR Indonesia)