AMCDRR: Red Cross tackles humanitarian needs in Democratic People's Republic of Korea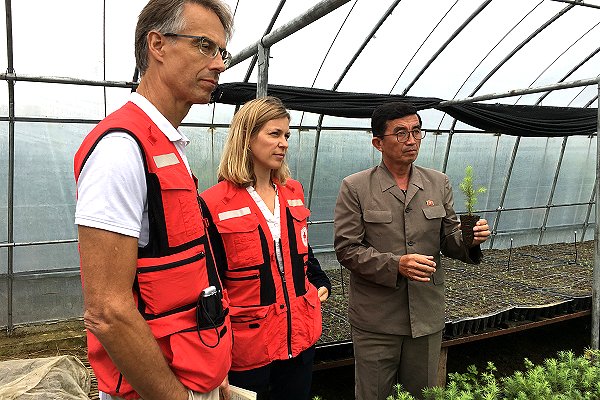 5 July 2018
(Thanks to its unique mandate the Red Cross is one of few humanitarian organizations working in the Democratic People's Republic of Korea. Åsa Sandberg, Head of Desk at the Swedish Red Cross, has just returned from a visit to the country, and this story appeared first last week on the IFRC news site. It is one of a series we are running to coincide with the AMCDRR meeting in Ulaanbaatar.)
Together with colleagues from the Red Cross of DPRK, Åsa Sandberg travelled to communities in the countryside and met people assisted by the projects that the Red Cross operates.
"The humanitarian situation is worrying, with over 10 million people in need of humanitarian assistance," says Åsa, on her second visit to the DPRK.
"As political processes continue, we hope there is space for discussions to include the importance of improved humanitarian cooperation.
"It is nothing but a privilege to get access to vulnerable communities and to see how our work is changing the lives of people."
She was moved by the kindness extended to her wherever she went. "I sat down with people in the villages to better understand their needs. They get by with very few means, but possess such resilience and dignity."
Greenhouses
The work of the Red Cross in DPRK is strictly humanitarian and is based on its seven fundamental principles: humanity, impartiality, neutrality, independence, voluntary service, unity and universality.
One of the challenges the country is facing is access to clean water. Many people fetch water in the river or struggle with shallow wells. Overall, there are 6 million people who suffer from a lack of clean water and improved sanitation.
"An elderly couple that I met had difficulty getting access to safe water from the well near their home, and for years they struggled with buckets, sometimes finding only a few drops of water.
"Now we have installed a water-management system in their house, and they won't have to worry about clean drinking water anymore. It was a joy to hear how well it works," adds Åsa.
Another challenge for people living in the country is food insecurity and lack of a varied diet.
"The Red Cross is keen to help in a long-term and sustainable way. That is why we support greenhouses where both vegetables and tree plants are cultivated.
"The vegetables are nutritious and will make the diet more varied for the vulnerable groups that we support. The tree plants will be used to build up protection of land, reduce soil erosion and prevent floods."
'As political processes continue, we hope there's space
for discussions on the importance of
improved humanitarian cooperation'
DPRK is regularly affected by a range of natural hazards precipitated by climate change including floods, droughts and bitterly cold winter conditions.
"Therefore, it is vital that people know how to protect themselves against risks, but also to act if danger emerges.
"The 134,000 Red Cross volunteers make a true difference in pairing early warning with early action. For example, in controlling the flow in rivers and alerting if the water level is rising rapidly."
Åsa explains that her colleagues in the Red Cross of the Democratic People's Republic of Korea demonstrated a great interest in learning more and to further develop preparedness systems before a disaster strikes.
One example is the influenza outbreak in DPRK early this year. Over 178,000 people were affected and four people died. A quick response was set in motion by 500 Red Cross volunteers who went from door to door to conduct health and hygiene promotion.
They also did referral to the community-based health institutions with focus on women, children and the elderly people.
"Altogether they reached over 130,000 people with messages on health awareness. Those Red Cross volunteers were a vital part of the solution, as the number of influenza-affected people went down," she explains.
Swedish Red Cross Head of Desk Åsa Sandberg with colleagues visits one of the greenhouses supported by her National Society in the DPRK, where she says more than 10 million people need humanitarian assistance and food security is an issue. (Photo: Swedish Red Cross)