AMCDRR: 'Female leadership is crucial in building resilient communities'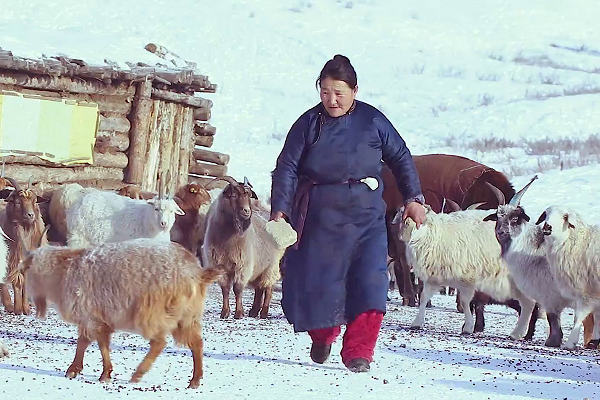 3 July 2018
(This opinion piece appeared first last week on the website of the Thomson Reuters Foundation. Mongolia is hosting the 2018 Asian Ministerial Conference on Disaster Risk Reduction that started today in Ulaanbaatar. In May the foundation's Max Baring reported that drought and harsh winters had driven nearly 70,000 herders a year off the land and into the city since 2001.)
As temperatures are slowly rising and dry weather sets in, herders in Mongolia are closely watching after the animals gave birth in spring.
In times of climate change, the worrying question remains: Will there will be enough hay and fodder to feed them and to keep them alive?
Here in Mongolia, we see first-hand the impact of natural hazards and the risks they entail. Known to many as the dzud, a severe-winter condition whose vicious circle may start with a summer drought combined with a harsh winter that will leave sheep, goats and other livestock dying from either starvation or cold.
The slow but disastrous dzud can kill millions of our livestock, as it did in 2016.
As one-third of our population depend entirely on farming, the impact on our society and economy is grave. Vulnerable and at-risk groups are hit hardest, many of whom are women and girls.
In Asia and globally, we have the scientific data
to warn us in advance of natural disasters,
from the dzud to droughts and flooding
"Watching the animals die is breaking us apart. But even if I have only one animal left, I will do everything in my power to keep it alive," said 72-year-old Dogoonoo, who lost 210 of her livestock in 2016.
Yet risk groups, as women, are too often still considered 'beneficiaries' instead of active participants and leaders, and it is too late to include many of these pre-disaster mitigation measures after the disaster has hit.
This attitude must change. An ambitious agenda like disaster risk reduction, which is both multi-sectoral and multi-disciplinary, will not move without a leadership that involves all.
Female leadership is crucial in building resilient communities, and women are eager to shoulder responsibility.
Voices
Hopefully we are moving towards a critical mass in that aspect, as governments, civil society, science, the private sector, international organizations, the development banks, and media engage in empowerment of women.
As the Government of Mongolia and the UN Office for Disaster Risk Reduction will host the 2018 Asian Ministerial Conference on Disaster Risk Reduction on 3–6 July in Ulaanbaatar, we will be calling on states and local authorities to really invest in localization to reduce the impact of disasters at the community level.
The Red Cross at large is committed to work with partners throughout the region, advocating to governments to better integrate protection, gender and inclusion measures in disaster-law frameworks to prevent and reduce the risks of disaster.
Furthermore, our network of volunteers and staff in Asia and beyond are trained and actively include women and girls in all stages of the design and implementation of disaster risk management programmes.
This to ensure that their voices are not only strong and heard, but that they are also considered and respected as leaders, actively managing their own community disaster risk and mitigation measures.
The next dzud
This means actively resourcing and supporting communities to develop their own understanding of risks, planning and implementing their own actions to make themselves safer, and participating in official decision-making about prevention and response to risks.
Resilient communities make for resilient countries and economies.
In Asia and globally, we also now have scientific data to warn us in advance of natural disasters from the dzud to droughts and flooding. We must be better at using this information to act earlier – preferably before a disaster has happened – to respond better, reducing impacts and saving lives.
The development of forecast-based financing mechanisms working together with governments, communities and scientists to better use the data is one such area.
In this way, we can ensure that we are ready for the next dzud, and although we will suffer losses we will as a society recover faster and with less impact for our most vulnerable communities.
A Mongolian herder puts out animal vitamin blocks distributed by the Red Cross earlier this year as part of a UK-supported forecast-based financing programme. (Photo: MRCS)