WMO: Caribbean edges toward regionwide, people-centred early warning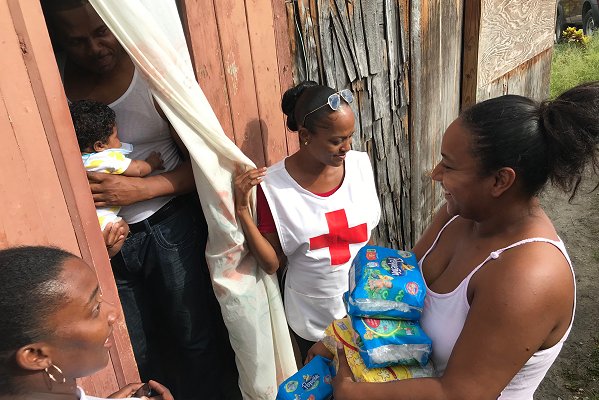 2 July 2018
The Caribbean is moving closer to a regional strategy to "strengthen people-centred early warning systems across the islands", according to an expert review led by the World Meteorological Organization (WMO) and its partners unveiled at the Regional Platform for Disaster Risk Reduction in the Americas, in Cartagena de Indias, Colombia, late last month.  
The study, Lessons learnt on early warning systems during the 2017 Caribbean hurricane season, was carried out with the Caribbean Institute of Meteorology and Hydrology (CIMH) and the Caribbean Disaster Emergency Management Agency as part of the Climate Risk and Early Warning Systems initiative.
Last year's hurricane season was one of the worst on record in the Caribbean and it "reversed socio-economic development" in hardest-hit Anguilla, Antigua and Barbuda, Dominica, St Maarten and Puerto Rico, a WMO press release said last week.
"There was consensus [in Cartagena] that there must be a regional strategy in place to address the critical challenges and strengthen institutions, increase resources and build more resilient operational structures in order to make significant changes to early warning systems."
'Perhaps the most important thing…
making a positive gesture every day of our life'
CIMH chief David Farrell said: "The magnitude of the impacts caused many to reflect on the region's resilience to severe weather – none more than the national meteorological services whose compromised operational capabilities rendered national early warning systems virtually inoperable, thereby placing many lives at risk."
The review (details) found that hurricane forecasts last year were generally accurate and timely, but rapid changes in storm intensity – especially for Hurricane Maria in Dominica – posed real challenges.
"Warnings of secondary hazards, including flooding and coastal inundation were insufficient and should be improved to include impact-based forecasting," said the WMO.
Other urgent needs included "greater investment in national meteorological services to strengthen their physical and communications infrastructure, data-collection networks, human and technical capacity as well as interactions with the public."
Among gender issues identified by the WMO were "'machismo' procrastination [as] a significant stumbling block for men to take action against risk, whilst single-headed (female) households, including the very young, and elderly, are among the most vulnerable".
It added that women were more likely to receive information through social media, while men rely more on the radio.
'Policy priority'
Shortly before the platform convened in Cartagena, the IFRC tweeted that its overarching message was that "the integration of disaster risk reduction [DRR] with emergency response programs helps build the resilience of communities over time and mitigates the impact of future crises."
Speaking from the DRR platform, IFRC Regional Director Walter Cotte tweeted five key messages, centred on the importance of evidence, volunteers, communities, resources and, "perhaps the most important thing…making a positive gesture every day of our life".
A declaration by ministers and senior officials at the end of the meeting called for the integration of disaster risk reduction in all areas of activity to promote a "less vulnerable region" and more resilient communities, the UN said last week.
The goal was to position DRR as a "public policy priority".
Salisbury, Dominica. Francis Williams's (right) livelihood was wiped out by Hurricane Maria and she and her family were glad to have relief supplies from the Dominica Red Cross. The island was one Caribbean territory where sudden changes of storm intensity last year proved difficult to forecast and warn of, a new WMO-led study finds. (March 2018 library photo: Hler Gudjonsson/IFRC)