Cape Town #AF2018 session debates adapting social protection for adaptation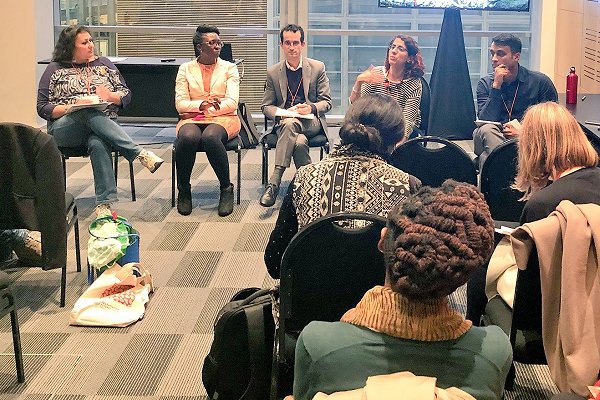 2 July 2018
The 2018 Adaptation Futures in Cape Town was all about possibilities. Discussions at both plenary and parallel sessions shared best practice, new information and technologies, potential sources of finance, lessons learnt and ways forward.
One such session organized by the Climate Centre was called: Addressing poverty and climate change in the 21st century: Can social protection support adaptation?
The Red Cross Red Crescent works to build resilience among the most vulnerable groups in a society: the poorest of the poor, pregnant and lactating mothers, the disabled, the malnourished people, the elderly, young children, unemployed people, the homeless, and others.
Governments help these groups face shocks through an array of social protection programmes.
'Forecast-based triggers'
Our session explored how, among these vulnerable groups, social protection can build short- and long-term resilience to extreme events and climate shocks.
It began with an interactive game in which speakers and the audience stood in a circle and uncovered some of the layering that surrounds social protection and adaptation.
A few of the insights included: "We are caught unawares," "We do not always want to work with some people," "We feel left out because the same people get approached time and again," "We do not always know what we will get," and so on.
At the session we introduced our new working paper, Resilience, Social Protection and Integrated Risk Management.
We asked panelists how best to integrate adaptation with social protection, and what we could communicate to the IPCC for its next assessment of the global climate, 'AR6'.
"Climate information can be useful to define vulnerability hotspots and help us target types of social protection, as well as design forecast-based triggers for delivery of benefits," said Maurine Ambani, Climate Science Research Project Manager at the Kenya Red Cross.
"Using social protection systems for adaptation helps deliver adaptation benefits to the maximum number of vulnerable people," said Stephane Hallegatte, Lead Economist at the Global Facility for Disaster Reduction and Recovery.
Satellite data
Oxford Policy Management's Marcela Tarazona spoke about the pilots they had conducted on implementing adaptive social protection programmes in Africa and Asia.
"You have to plan in advance," she said. "This includes agreements on triggers for decision-making and having the requisite adaptation finance available."
Sagar Pokharel, Programme Advisor at Mercy Corps in Nepal, emphasised the need to use community-based triggers in tandem with satellite data. "We need forecasting models that also capture vulnerability benchmarks of communities from below.
"Adaptive social protection products should focus on recovery of livelihoods in vulnerable hotspots."
Two key points emerged from an audience poll at the end of the session: the inherent limitations of social protection should not get translated into the adaptive version, which must in turn be complemented by other adaptation measures.
The Adaptation Futures session, organized by the Climate Centre, on the future of social protection. Climate information can be useful to define vulnerability hotspots, said a specialist from the Kenya Red Cross. (Photo: Climate Centre)