SA Red Cross at #AF2018: Scientists, researchers and people directly affected must find common language on climate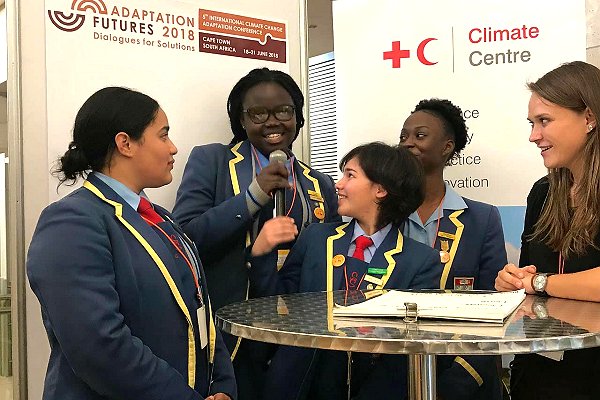 28 June 2018
"Adaptation requires much greater collaboration by all stakeholders": this was the conclusion of Fernel Campher, Disaster Management Officer at the South African Red Cross (SARC), last week at the end of Adaptation Futures in Cape Town.
It was the first time the biennial conference was held in Africa, and the first time the SARC had taken part. 
"We need a common language for effective sharing information from scientists and researchers with people on the ground directly impacted by climate change," Campher added.
"We need one voice. I feel really inspired by that.'
This year's conference was jointly organized by the Climate Centre as an official partner, and Bettina Koelle – its South Africa-based Senior Learning Specialist and conference steering-committee member – said the severe drought in Western Cape province had "highlighted the need for broader understanding of how climate change exacerbates both new and existing hazards.
"The hope is that participation provided a way to engage with climate information and the growing community of adaptation practice to better prepare for future hazards." 
'Community kraal'
The Climate Centre team in Cape Town also coordinated the reporting of all Adaptation Futures sessions, distilling key messages for the second of the IPCC's three working groups – covering adaptation as well as impacts and vulnerability – for consideration in the next assessment of the global climate, known as 'AR6', now underway.
The Climate Centre led several sessions centred on integrated risk management in coordination with Partners for Resilience, covering policy, climate research, the science of heatwaves, also including a debate on adaptation in the urban context and a popular session on social protection.
Maurine Ambani, Climate Science Research Project Manager with the Kenya Red Cross, told that session her country had "activated its national social-protection system in response to weather forecasts, but there's still work to be done on impact-based forecasts and what actions to include".
The Climate Centre hosted a "community kraal" (village) – an open space for conversations away from formal sessions, where the South African artist Noah Rudolph created a collective message for the next Adaptation Futures conference.  
Young scientists
Video-booth interviews in the kraal included a farmer looking for accessible research on climate, a journalist on the importance of framing information for target audiences, schoolgirls keen to learn about adaptation and inspired to act (photo), and a local community worker challenging delegates to communicate with people more effectively.
Robert Hofstede, Associate Director for Climate Change at the International Development Research Centre, stressed the importance of including young scientists and women who had brought fresh perspectives to the discussions.
Elena Visnar Malinovska, a Head of Unit and a specialist on adaptation at the European Commission, said the young "can really be the change" on climate, echoing a theme evident in many Adaptation Futures sessions.
Saleemul Huq, Director of the Bangladesh-based Director of the International Centre for Climate Change and Development, emphasized to a closing panel that the recent expansion of research and practice on adaptation had generated significant progress.
"In comparison to the last Adaptation Futures in 2016, this conference had a greater focus on urban areas, learning, and transformation," Erin Coughlan de Perez, who manages the science team at the Climate Centre, told the panel.
Risk management, she added, remained a key framing. "More than half of all sessions indicated their research was relevant to the AR6 chapter on decision-making for managing risk."
                                                                              *
Also in Cape Town last Thursday, the Netherlands Special Envoy for International Water Affairs, Henk Ovink, and Canadian Chargé d'Affaires Pamela Moore announced the start of a new phase of the Climate and Development Knowledge Network (CDKN) their governments are supporting, the Climate Centre adds.
CDKN will now focus on "providing developing countries with enhanced knowledge resources to support ambitious climate action, as well as boost climate leadership and learning on climate-compatible development," the organization said.
CDKN's global and Africa programme will be led from South Africa, with Latin America and Asia regional hubs managed from Ecuador and India.
"Dutch development policy for the first time focuses on the interconnectedness of climate change and root causes of poverty, political instability, conflict and migration," said Ovink.
Moore added that climate change was a shared global challenge and a "refreshed Climate and Development Knowledge Network [was] part of this global partnership for large-scale change…"
Local schoolgirls taking part of the community kraal at the 2018 Adaptation Futures meeting in Cape Town, a space where people came to pose challenges and share inspiration at the first such event to be held on the African continent. (Photo: Climate Centre)