Heatwave threats rarely a priority for city officials, even as risks rise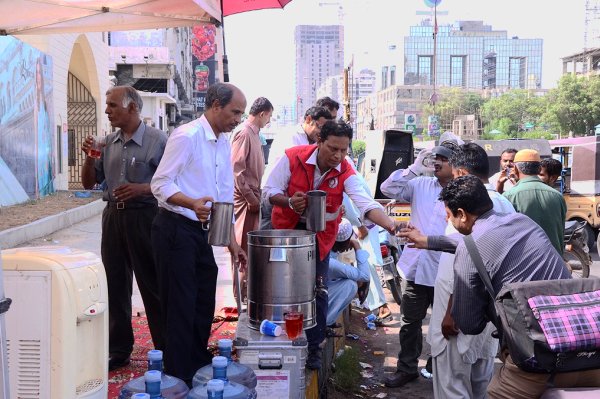 22 June 2018
(This story appeared first yesterday on the Thomson Reuters Foundation website. It is the second Thomson Reuters Foundation story we are cross-posting from Adaptation Futures and has been edited slightly here for length.)
On days when temperatures hit worrying peaks – an increasing problem in Cape Town as climate change takes hold – figuring out how to keep people cool can be a challenge.
The South African city, long known for its moderate climate, has few air conditioners. It is fringed by the sea – but most people don't know how to swim, making encouraging a dip risky, said Amy Davison, who works on environmental strategy for Cape Town's city government.
A brutal drought that has forced dramatic efforts to cut water use means half the city's pools are closed. Building parks with water jets – fun for children, safe for all and a more judicious use of water – might make sense, but not when the city is struggling just to keep taps flowing, Davison said.
That leaves many people – particularly the city's poor – crowded into the shallow end of the few open pools on hot days, if they can reach one at all, something many in the city's far-flung tin-roofed slums will never manage.
Cape Town, at the southern tip of Africa, may be better known for the clouds blanketing Table Mountain than for blistering heat, but it is now looking for ways to stay cool as climate change brings ever higher temperature peaks.
Increasing heat 'is one of the most obvious,
carefully studied and confident projections we have'
However, many cities that have not particularly struggled with heat in the past – though may soon – are not as worried about the risks, said Meggan Spires of the International Council for Local Environmental Initiatives, whose African chapter is based in Cape Town.
Across much of Africa "our city officials are not prioritising heat as a major issue," she said. "When you ask [officials] what they want to deal with, heat hardly ever comes up."
One problem, said Eddie Jjemba, who works for the Red Cross Red Crescent Climate Centre, is that people living in hot places are often convinced they are capable of dealing with future heat extremes.
"People say we are used to the heat. It's not a barrier for us," said Jjemba. He remembers talking about the issue with a Ugandan man who noted that, in his view "heat is only a problem for Europe".
But heatwaves are already a bigger risk in many cities than people realise, said experts at the Adaptation Futures climate change forum, being held in Cape Town this week.
Between 1980 and 2013, for instance, heatwaves accounted for less than 1 per cent of the "natural hazards" faced by people living in Europe, said Eliska Lorencova, of the Global Change Research Institute at the Czech Academy of Sciences. But heatwaves caused 67 per cent of all fatalities from such hazards over that period, she said.
Such death rates should be easy to reduce, said Erin Coughlan, a climate scientist with the Climate Centre, not least because heatwaves are usually predictable, giving time for advance warning.
Older adults
Increasing heat "is one of the most obvious, carefully studied and confident projections we have for the future", she said. "Heat should absolutely be one of the most important things on the agenda" to reduce climate-related risks. But persuading people – and governments – to take the risk seriously can be a challenge.
Studies show clearly that the elderly are one group at particularly high risk in heatwaves, often because they already have underlying health issues, Coughlan said.
But interviews by researchers with older people in Britain, for instance, showed almost no one considers themselves elderly – even people in their mid-80s and older.
Reshaping messages around heat risk to aim them at active older adults rather than the elderly may help more people understand they are at risk, experts said.
In already steamy places like Australia, as well, "elderly people have been through multiple heatwaves and have no perception of the risks," said Louise McKenzie, of the City Futures Research Centre at the University of New South Wales.
What can help lower the risks, experts at the conference said, is helping governments understand that a predictable risk is a relatively cheap one to address – through everything from opening swimming pools in advance of heatwaves to planting more city trees – rather than waiting for heat-felled patients to begin showing up at hospitals.
Heat deaths
Returning to traditional ways of cooling buildings that were abandoned with the invention of air conditioning – such as aligning doors and windows to allow breezes to pass through – also can help, as can keeping a particular eye on risks in slum areas that, with their dense, often tin-roofed housing, can present a huge heat risk, they said.
More work needs to be done as well on more clearly attributing heat deaths to heatwaves – something that is today a problem as most fatalities from heat are attributed to other more immediate causes, such as heart attacks, the experts said.
In Cape Town, city authorities are now developing plans to cool the city in hot periods with new green infrastructure, particularly more trees.
Such plans can work closely with other efforts, Davison sai, such as protecting water basins and wetlands to reduce flood risks.
The Sindh branch of the Pakistani Red Crescent set up heatstroke treatment stations in the killer heatwave in Karachi earlier this year. The hottest weather was recorded in the town of Chor, which saw a temperature of 47°C, the National Society said. Karachi "is plagued by frequent and unannounced power cuts and lack of green spaces which makes the heat harder to bear. People living [in its] crowded streets have little access to shelter or safe drinking water, making them acutely at risk in blistering temperatures," its sitrep on the heatwave added. (Library photo: PRCS)