New state of emergency in snowbound Peru districts includes earlier FbF distribution sites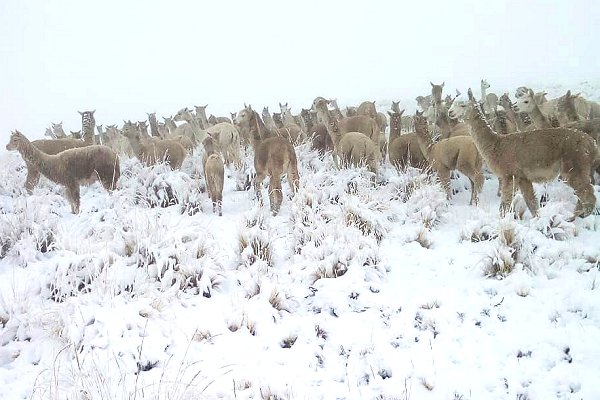 14 June 2018
With parts of the country suffering extreme cold and heavy snow in the southern winter, the authorities in Peru Wednesday declared a state of emergency that included two districts, Santa Lucia and Callalli, where – ten days earlier – the Red Cross had carried out a humanitarian distribution under forecast-based financing (FbF).
Nearly 400 family packages containing heavy coats for adults and children, tarpaulins, and animal-care kits with vitamins and antibiotics for alpacas (photo), were distributed by the Peruvian Red Cross (PRC) to ten communities in the two districts in Puno and Arequipa departments respectively.
These high-altitude communities are almost completely dependent on their alpaca herds, which can be severely affected by harsh winters.
It was the most recent FbF 'trigger' in Peru – in this case for frost and heavy snowfall after a forecast by the National Service of Meterology and Hydrology (SENAMHI by its Spanish acronym) – since a false alarm two years ago.   
Supplies
The 60-day state of emergency was declared after several days of intense snow and an assessment by the local civil defence agency; several government entities are responding in the fields of, especially, health and agriculture.
The Peruvian Red Cross distribution was coordinated from the PRC branch in Arequipa city where relief supplies had been pre-positioned.
Twelve PRC volunteers from the branch and others from a national response team were mobilized from branches in Cusco, Lima and the northern Loreto region.
Local officials and community leaders accompanied the PRC volunteers on last week's distribution under FbF, which is supported in Peru by the German government and Red Cross with technical advice from the Climate Centre.
Distribution of winter clothes and animal-care kits for alpaca herds in Santa Lucia and Callalli districts preceded an official state of emergency by ten days. (Photo: PRC)