Red Cross-supported goat-rearing helps sustain households in north-east Uganda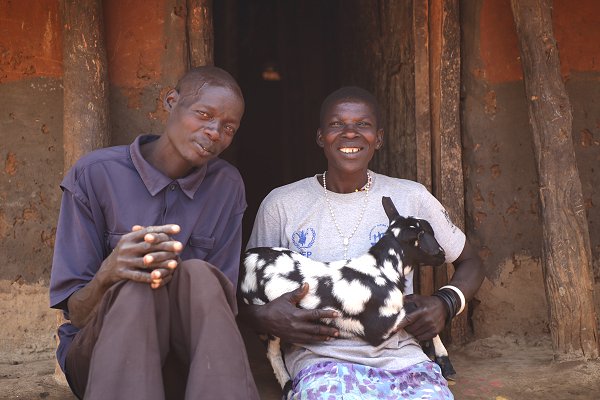 14 June 2018
(A version of this story appeared last week on the website of the Uganda Red Cross Society.)
Sabina Menhya, 40, smiles broadly as she receives URCS visitors in her home. She is a mother of ten children between two and 21 years of age. The family was even bigger before, but sadly Sabina lost two children to malaria.
She and her husband Mathias Okiru, 44, grow beans, maize and sunflowers in a small garden at their home in a village called Nyakwae, in north-east Uganda. They earn less than the equivalent of one US dollar a day; their harvest is seasonal.
She lives in a dilapidated thatched hut and the family once had very little food and were very malnourished.
But Sabina was one of a group of local householders the Uganda Red Cross Society (URCS) assessed for assistance through a project for goat-rearing for sustainable livelihoods.
I look at the goats as a source of wealth.
When our son marries,
we'll use some for bride price
With support from the German government through the German Red Cross in Uganda, the URCS began implementing the livelihoods programme targeting, in particular, vulnerable women.
Abim was one district chosen where women are often breadwinners.
"The goats were thirty and we formed a group to rear them as a team," says Sabina.
"Feeding them was not easy but when we collect feed as a team it is easier." Sabina has given her goats names. They remind her of joy, development, change and the better life the family has attained, she explains.
"I call my favorite goat 'Bia konyi' which means 'Come and I help you'.
"These goats have helped me. I don't lack anything now since they are a source of my joy."
Flood-resistant huts
In the family now children play a vital role in caring for the animals during their school holidays; the boys take them out to graze, for example.
The Red Cross also introduced a new way of building in the community and Sabina's family now has more than three flood-resistant huts.
"When we selected the needy families we took them for a training in farming and helped them to become more sustainable, and to plant crops in and out of season," says says Stephen Opolot, URCS Climate Change and Adaptation Project Officer.
"We also taught them how to build strong huts since this place is prone to floods."
Sabina says her children are in school and the family is able to meet its needs.
"I look at the goats as source of wealth. When our son marries, we will use some of the goats to pay the bride price," says Mathias.
Sabina and her husband Mathias Okiru grow beans, maize and sunflowers in Nyakwae village in north-east Uganda. Red Cross-supported goat-rearing has now greatly improved their income and prospects. (Photo: Denis Onyodi/URCS-Climate Centre)