As monsoon intensifies, 'unsung heroes' bring health and maternal care to Cox's Bazar camps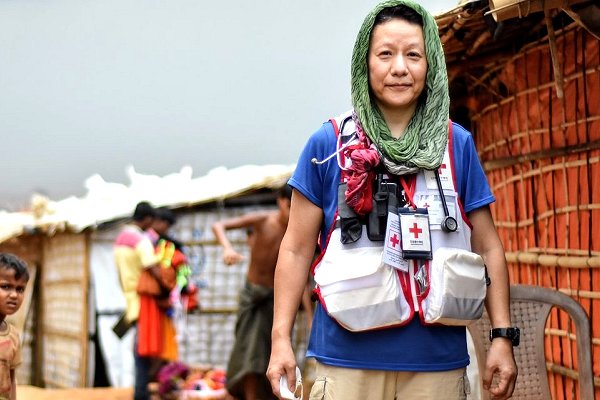 8 June 2018
(This story appeared first on the IFRC website earlier this week)
Amidst intensifying monsoon season in Bangladesh, a team of Red Cross and Red Crescent medical personnel are working hard through fair skies and stormy weather to bring health and maternal care for people living in camps in Cox's Bazar.
Michi Chono, a midwife and nurse for 28 years (photo), is one of them.  "I am a Red Cross person," says Michi. "Many doctors and nurses do refugee work and their mission ends when they go home.
"As long as I am with the Red Cross, my mission will continue."
Michi is part of the team that works in the Bangladesh Red Crescent Society's (BDRCS) mobile clinic, supported by the Japanese Red Cross. As the main clinic in Balukhali 2 camp, the clinic sees around 130 to 150 patients per day.
Here, patients are treated by two doctors, three nurses and two assisting midwives providing antenatal care and maternal child health services. The clinic is run by Red Cross staff and local community volunteers and also has two pharmacists.
A baby's heartbeat
Hazara, around seven months pregnant, gets her blood pressure checked by Sabra Prestianni, a nurse with the Italian Red Cross. Like most pregnant women in the camps, Hazara will rely on a traditional birth attendant, such as a mother-in-law or neighbour, to help during delivery.
When the monsoon season intensifies, it might be difficult for her to get to the hospital. With the mobile medical clinic available, Hazara will be able to receive the medical help she needs.
During a check-up, Michi, and BDRCS midwife, Bilkis, work together to listen to a baby's heartbeat. "Many women will be fasting during Ramadan. Our biggest concern for them is dehydration, especially for pregnant and lactating mothers and their babies," says Michi.
"If they feel dehydrated, they're advised to drink water as fasting can be made up later when they're healthier."
Heavy rain
Michi also works closely with community volunteers like Nur Islam, to go in search of pregnant mothers for antenatal check-ups at the mobile clinic.
"Even when there are complications mothers reject going to hospital because no one can care for her other children," explains Michi.
Nasaray, who is around six months pregnant, is one of the women Michi visited during her rounds. Part of Michi's work includes encouraging mothers like her to come back to the clinic for follow ups and to go directly to hospital if they experience any pain.
Apart from treating pregnant women, the clinic is also particularly important once heavy rain comes as many people could become sick from contaminated drinking water.
Already, low-lying areas have very dirty water. Contact with more dirty water could create an acute watery diarrhoea outbreak.
(The IFRC is seeking nearly US$ 37m to support the BDRCS in delivering help and reinforce cyclone preparedness for 200,000 people in the Cox's Bazar camps.)
Michi Chono from the Japanese Red Cross on her rounds in the camp. The full picture story by Lynette Nyman and A.J. Ghani is at the IFRC website. (Photos: IFRC)