Sri Lanka Red Cross drone assesses monsoon disaster from the air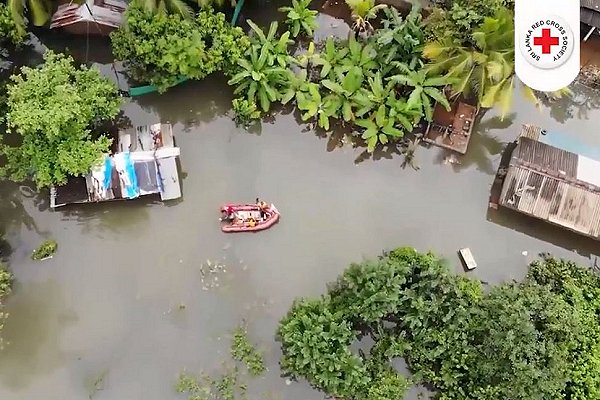 5 June 2018
The Sri Lanka Red Cross Society (SLRCS) says it has now launched a recovery operation to assist 50,000 people affected by the recent monsoon-season floods, and for the first time it is using a drone to help volunteers gauge the full extent of the disaster.
The National Society said in a press release last week it was allocating nearly nearly US$ 400,000 for a four-month operation to assist 2,800 household in Puttalam, Kalutara, Kegalle, Ratnapura, Gampaha and Colombo districts, identified as the worst affected.
"Every year the Sri Lanka Red Cross Society along with its partners are launching recovery operations such as this after floods," said SLRCS President Jagath Abeysinghe.
"One thing we do constantly is to ensure that people affected have the means of getting back on their feet after a devastating experience."
The Red Cross will provide households with unconditional cash grants of US$ 64 each – a standard amount set by the government, and also focus on rehabilitating wells contaminated by floodwater.
'We cannot look at future disasters from the angle
we used to. The dynamics are changing
and the response should too'
A DREF grant from the International Federation of US$ 360,000 was issued on 30 May and will also support relief operations through the end of September.
The IFRC quoted the Sri Lankan authorities as saying that that 20 people had died in the "heavy rains, strong winds, lightning and landslides" of the past few weeks, adding that worse weather was expected as the monsoon peaks.
Also last week the SLRCS released dramatic drone footage captured by aquatic volunteers with their new SwellPro quadcopter – billed by its makers as waterproof and the world's first drone built for fishing.
SLRCS Colombo Branch Secretary Dr Amila Kankanamge said: "This is something new we are trying in the face of these intense disasters that gain strength each year.
"We cannot be looking at these future disasters from the same angle we used to. The dynamics are changing and the response should too.
"That's why we are opting to use modern technology in order to assist the most vulnerable people in our district."
The Red Cross in Sri Lanka is using a drone to assess flood and storm damage from the air, and locate the most seriously affected people. (Photo: SLRCS via Facebook)