Apps transforming rebuilding projects after typhoons in Viet Nam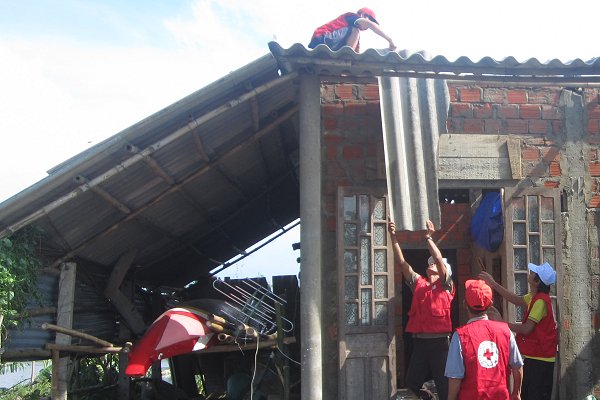 25 May 2018
(This story appeared first earlier this month on the UNDP Viet Nam website. Jenty Kirsch-Wood specializes in climate adaptation and resilience.)
When Typhoon Damrey ripped through south-central Viet Nam in November 2017, more than 3,000 families found themselves homeless.
UNDP, with support from the Government of Korea, responded rapidly with a safe-housing reconstruction project targeted towards 300 poor or near-poor households that were considered particularly vulnerable. 
House reconstruction is challenging and especially so in the aftermath of a disaster.
Families want to be sure they can count on support, and they can have questions about applying training they've received to ensure that they build back better using safer designs and techniques.
Project managers struggle to keep track of progress in individual houses, and face questions about who got assistance and if is it being fairly and transparently delivered.
Virtual map
But with the help of a SeeSaw, a social media NGO, the Viet Nam Red Cross chapters in Quang Nam and Khanh Hoa, and the Vietnam Women's Union in Phu Yen, UNDP was able to adapt existing open-source software to connect our team with the people they serve through an easy-to-learn, two-way mobile phone application.
The system is simple: local Women's Union or Red Cross staff use their smartphones to photograph destroyed homes and to fill in a simple questionnaire that provides details of the destroyed house and its residents.
Data is uploaded and the house location is logged on a virtual map (this feature is also handy for follow-up visits).
Households are also provided with phone numbers to call to connect them to the project. Call one phone number when you've finished construction and need an engineer to verify work, call another to report a problem or complaint.
The numbers work on a missed-call basis so families don't incur any phone bills and UNDP doesn't need a 24-hour operator. But project staff get an email as soon as a household call is logged. 
'Feedback system'
So far both project staff and local community members are positive about the system. "I can now check progress much better. I am better equipped to understand and solve problems that come up," said Mr Nghia, UNDP shelter project manager, "and while I was nervous at first about the feedback system, I now feel better knowing that families can reach me if they need to."
For team members like Mr Nghia, the app has helped them be better connected to communities and also reduce monitoring costs.
Other team members now are interested in replicating the system and are exploring research opportunities to use data collected to improve understanding who is most affected by disasters and why.
In the northern coastal province of Ha Tinh, Viet Nam Red Cross volunteers help to rebuild a house damaged by Typhoon Wutip. Now a new app for mobile phones will help people keep track of complex reconstruction projects after storms. (2013 library photo: Doan Minh Cuong/VRCS via IFRC)