'We can't engineer a way out of the Bangladesh camps'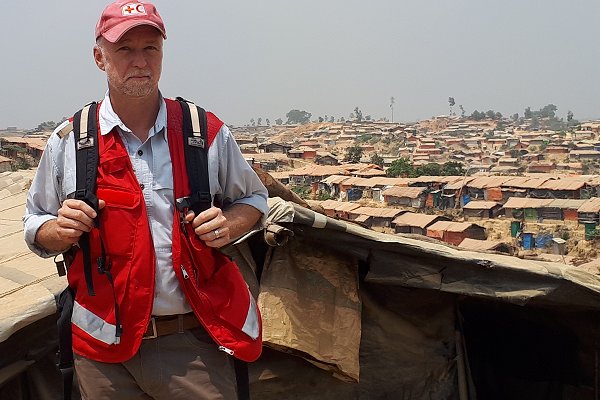 17 May 2018
(This story appeared first last month on the website of the Australian Red Cross. A photo story by the IFRC's Lynette Nyman graphically illustrating work being done in the camps by the Bangladesh Red Crescent and their international Red Cross Red Crescent partners to prepare for the monsoon appeared on the IFRC site on Tuesday.)
In Bangladesh refugee camps, there is a scramble underway to prevent a catastrophe and mass deaths.
The annual monsoon rains are forecast to trigger landslides and destructive floods, endangering at least 200,000 people living in shelters perched on the sides of sloping hills.
Nearly a million people, who have fled violence in Myanmar, are crowded cheek-to-cheek in what is now the world's largest series of refugee mega-camps. I've worked in Iraq, in South Sudan and refugee camps in Europe but I've never seen anything like it.
Countless homes face flooding that would submerge low-lying areas. Flash floods could destroy the camp's toilets, clean water supplies and narrow pathways. Delivering crucial health services and other aid will be near impossible.
There will be a very high potential for outbreaks of deadly diseases.
'World's biggest maze'
Every day, it pains me to see this disaster within a disaster unfolding before my eyes. People who have lost everything face losing the little they have all again.
Parents have done their best to make new homes and provide a life for their children. Yet they are living in the world's biggest maze of the most basic shelters; bamboo and plastic sheets are held together with twine. Pieces of cardboard and garbage bags patch rips or cover up holes that cling to the steep, terraced hillsides.
The forest that previously covered these slopes is being denuded at the rate of four football fields a day. Many of the trees and their roots have disappeared in puffs of smoke, used as cooking fuel to help families survive on meals that consist of a handful of rice and some lentils if they're lucky.
I've seen how the sheer scale of the deforestation in the camps exposes women and children to huge safety risks. Children walk all day, travelling further each week to find wood for fuel.
The change to this once forest-sanctuary-peninsula is profound. It has caused animosity in already impoverished local Bangladesh communities. It has destroyed the habitat in which elephants habitually forage. Children have been killed and dozens of people injured as elephants have trampled through camps, once their centuries-old paths.
Potential catastrophe
The people living in the camps are caught between a rock and a very hard place. People who have sought safety in Bangladesh are currently restricted to the camps, limiting their options to establish themselves out of the way of the monsoon storms.
Discussions continue between government authorities on the enormous task of how to organise the safe and voluntary repatriation of hundreds of thousands of people. This will be no quick fix. I've met families who have been here for 30 years. Their adult children were born in the camp. This is the only home they know.
One of the reasons that homes are so flimsy is that aid agencies have not been allowed to provide more sturdy materials such as concrete, brick, timber and corrugated iron sheets to build more durable shelters. Since people started arriving in Bangladesh, families have only been permitted to build out of 'emergency' shelter materials, such as plastic sheeting.
Negotiations are ongoing between aid agencies and authorities for shelters with reinforced concrete pillars and gas stoves. There are mounting concerns that this will not happen fast enough.
In Cox's Bazar – the seaside town where international aid organizations have their offices – fears grow that it will not be possible to engineer a way out of a potential catastrophe. 
'The forest that covered these slopes is being
denuded at the rate of four football fields a day'
Nevertheless, thousands of community leaders and heads of households are attending Red Cross Red Crescent training on how to make camp shelters safer.
Mountains of materials are being used to make shelters stronger; bamboo, timber, rope, nails, wire and tools such as hammers, hoes, chisels and wheel barrows. Everywhere I turn, people are busy building. The noise is deafening.
Special 'tie-down kits' of rope, pegs and sandbags are being distributed for every shelter.
Sobering messages are being circulated by some agencies to camp residents: "In the case of a severe storm or cyclone there will be no mass evacuations. There are no official community cyclone shelters in which families can safely take refuge."
Red Cross Red Crescent and other agencies are helping people here understand that there are simple strategies that may help them and their children survive, such as lowering the roof of their shelter and reinforcing the walls with sandbags in a type of bunker.
The race is on to help all camp residents understand that they need to be prepared and informed to act quickly.
It is a little more than nothing, though it is not much. The world owes the people here in the Bangladesh camps a safer, more dignified future.
Australian Red Cross shelter aid worker Don Johnston, who is coordinating relief supplies in Kutupalong camp, Bangladesh. (Photo: Australian Red Cross)