Attribution scientists examining devastating Kenya rains for climate change fingerprints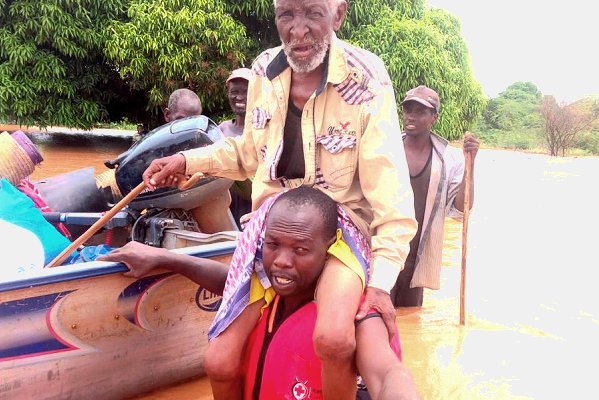 11 May 2018
With devastating seasonal rains in Kenya yesterday reported by the Kenya Red Cross (KRC) to have displaced nearly 300,000 people and killed 158, scientists with the World Weather Attribution (WWA) programme have begun analysing the unusually intense rainfall to determine whether climate change played a role.
They will examine especially the rains that caused floods in the southern River Tana delta on the Indian Ocean.
The results of the new 'rapid attribution analysis' are expected to be issued around the end of this month.
A KRC press release late yesterday today quoted Secretary-General Abbas Gullet as saying the "effects of the floods countrywide have now reached the proportions of a national disaster and the severity will be seen when the rains are over."
The majority of the counties affected were the same ones that had suffered in the drought, he added, in what was now "a double tragedy".
Dr Gullet said: "These communities have been rendered more vulnerable because of cyclical disasters and their coping mechanisms have been totally depleted."
The KRC said the authorities also reported at least 32 deaths after heavy rains caused a dam to burst near the town of Solai, 190km north-west of Nairobi.
Media reports said homes had been swept away across "a vast area of farmland", and it was feared the death toll would rise as search and rescue operations continued.
'National disaster'
Earlier in May the IFRC announced an emergency appeal for nearly US$ 5m for Kenya – one of several East African nations affected by lethal flash and riverine floods.
The Rwanda Red Cross reported that the country had been affected for three months "by heavy rains and landslides that have caused hundreds of deaths, demolished thousands of homes and destroyed enormous areas of [crops], leaving behind a fear for what lies ahead."
From Somalia the UN Food and Agriculture Organization said the floods "are some of the worst the region has ever seen, and the current water-level exceeds a 50-year return period in most locations."
The new WWA study centres on an area of Kenya where rainfall has been unusually heavy and for which good meteorological data is available, but it may also offer insights into conditions further afield regionally.
A year ago climate scientists released a detailed study of the Kenyan drought, which found a 'climate signal' in associated high temperatures but no detectable influence of climate change on rainfall, although it did not exclude small changes in the risk of poor rains linked to climate change.
The current study will be the first of its kind into intense rainfall in East Africa.
Kenya Red Cross volunteers rescue vulnerable people cut off by floods in Tana River County last month. Secretary General Abbas Gullet said the intense rainfall of the past few months had now inflicted a national disaster on Kenya. (Photo: KRC via Twitter)