Inter-agency collaboration in Solomon Islands holds out hope of better warning on drought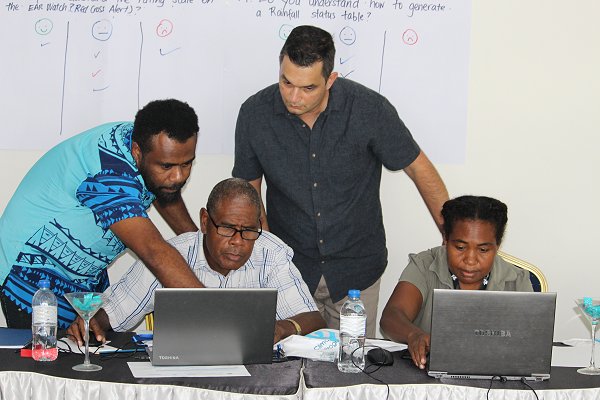 11 May 2018
The Climate Centre is working with Secretariat of the Pacific Regional Environment Programme (SPREP) and Australia's Bureau of Meteorology (BOM) to boost the capacity of the Solomon Islands Meteorological Services (SIMS) to monitor and communicate on drought through an "early-action rainfall watch", including seasonal outlooks.
This is a national version of a regional tool that SPREP and BOM have been helping the Red Cross in the Pacific to use, enabling National Societies to respond to information about impending dry or wet conditions.
A training session in the Solomon Islands capital, Honiara, last week, involving specialists in disaster management, health, agriculture and other sectors, was described by Acting SIMS Director Lloyd Tahani as "a great opportunity to enhance our capacity to better respond to the needs of our partners, sectors and communities with regards to drought."
Crop failure
The Solomon Islands were badly affected by droughts in the 1990s, with one dry spell lasting 21 months between 1991 and 1993.
In the 1998 drought, the government undertook humanitarian relief throughout the year in the worst-hit areas and asked the Red Cross to ship supplementary rice to villagers on Basakana Island, where the entire population of nearly 400 people had been affected by crop failure.
The IFRC that August released nearly US$ 12,500 from its Disaster Relief Emergency Fund, which was this week expanded to include a window for forecast-based action.
Tahani added: "This training activity also contributes to the Solomon Islands drought plan being developed with the national disaster management organization as well as all the other relevant sectors.
"We want to thank the Government of Australia, BOM, SPREP and the Red Cross for their support…"
Health
The new rainfall watch in the Solomon Islands is linked to continuing study of a possible Red Cross forecast-based financing programme for the Solomon Islands centred on drought.
Drought in the Pacific is often associated with La Niña or El Niño and can affect water supplies, agriculture, health, the environment and livelihoods over long periods, but it's not always clear what actions to take to prepare or when. 
It's now hoped that better advisories and warnings will enable authorities, businesses and communities to take preventive actions well in advance to reduce the devastation that can follow when droughts strike.
SIMS training on advanced drought-monitoring: from left Philip Malsale (SPREP), Noel Sanau (SIMS), Simon McGree (BOM) and Lucy Sau (SIMS). (Photo: Climate Centre)