Pacific communities at the forefront of local action and adaptation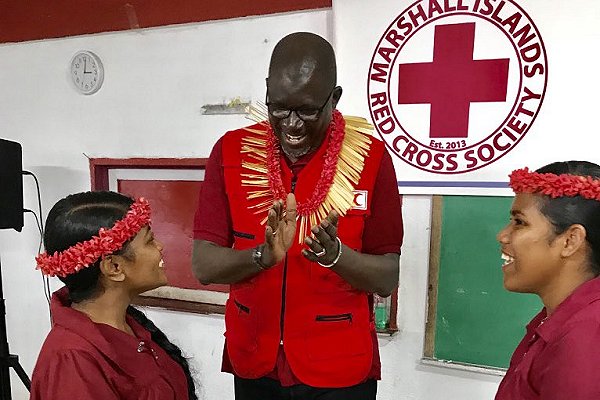 25 April 2018
(This story appeared first on the IFRC news site on Friday. The Marshall Islands Red Cross is due to be officially admitted to the IFRC at the next General Assembly in 2019.)
The 191st pin on the Red Cross Red Crescent world map is set to be for the Marshall Islands Red Cross, which is on track to becoming the IFRC's newest National Society, after the first visit from the Secretary General of the IFRC. Elhadj As Sy visited the islands from 15 to 21 March 2018.
Surrounded by the Pacific Ocean, the Republic of the Marshall Islands is home to 50,000 people, across 29 coral atolls and more than 1,150 islands and islets.
Like many Pacific islands, the Marshall Islands are living with the reality of a changing climate, with more frequent weather events – storms, floods and droughts threatening its communities.
"These threats, along with other social and health challenges facing the islands are what drives it to gain official Red Cross recognition," says Jack Niedenthal Secretary General of Marshall Islands Red Cross.
"We are already active as a local Red Cross, but official admission will help expand our scope, especially during disasters, and give us a greater voice on international forums.  This will, in turn, help us to help our communities more." 
'First aid is an essential element for safe
and resilient communities. Especially here,
where the nearest hospital is at least a boat ride,
these young people can save lives'
Mr Sy visited Jenrok, a seaside neighbourhood on the main island of Majuro, which has the impacts of climate change on its doorstep, with king tides, floods, storm surges and a rising sea lapping at homes and livelihoods.
The preparedness work which the Jenrok disaster committee and Red Cross have embarked on, Niedenthal says, has paid off, with every household knowing what to do in an emergency.
"When people hear three rings of the bell, they know to get their essential items together quickly and to evacuate to the high school, which is the highest and strongest building in the community," he says.
For the IFRC Secretary General, the visit to Jenrok showed the reality of life for many Pacific Islanders.
"It's widely known that the Pacific is at the forefront of changes to our climate – in terms of impact and action. Here in Jenrok, I can see it for myself," says Mr Sy.
"But what I also see is the strength of this community, their community action and resilience. It also shows why Marshall Islands have been so committed and proactive in forming their National Society.
"They are a small society, but one facing significant and urgent challenges."
Safe evacuation
While Marshall Islands Red Cross will be one of the newest Red Cross National Societies, they are already a local leader in first aid, with a plan, according to Niedenthal, to have a first aid trained person in every household of the islands.
"Here in the Marshall Islands, our communities live across vast and remote islands where healthcare can be hard to access, so ensuring local people who are the first responders to any emergency are first aid trained is vital," says Niedenthal.
By boat, Mr Sy headed to Rongrong Island where 24 high school students were completing a first aid and emergency response training, becoming the latest recruits to Marshall Islands' 300-strong volunteer family.
"First aid is part of our Red Cross DNA. It doesn't matter where in the world, first aid empowers people as first responders and is an essential element for building safe and resilient communities. Especially here, where the nearest hospital is at least a boat ride away, these young people can save lives."
While boat is the common local means of transport in the Pacific, a flight across the huge Pacific Ocean brought Mr Sy to Fiji, home to the Fiji Red Cross.
Isolated
In Fiji, Mr Sy visited Narocake village, where Fiji Red Cross and the community have built a raised concrete footpath to connect the low-lying flood-prone village with the main road, providing a safe evacuation route during flooding.
Initiatives like this are just one of the ways Fiji Red Cross works in partnership with communities to better prepare and respond to disasters.
Mr Sy commended Fiji Red Cross for their work, particularly their response to Cyclone Winston which hit the country two years ago, impacting more than 80 per cent of the population.
The 14 pins on the globe representing the Red Cross Societies in the Pacific show how remote and isolated the region is, and how significant a visit from the Secretary General is.
"It is fairly rare for the Marshall Islands to get such a high-ranking official from any organization, so Mr Sy's visit was important and much appreciated by our entire organization and by the entire country," says Niedenthal.
"In Marshall Islands with my young friends Helina and Jamako proudly exhibiting their certificates after participating in first aid and emergency response trainings," Mr Sy tweeted. (Photo: IFRC)