Going shelter to shelter to survive the monsoon in Cox's Bazar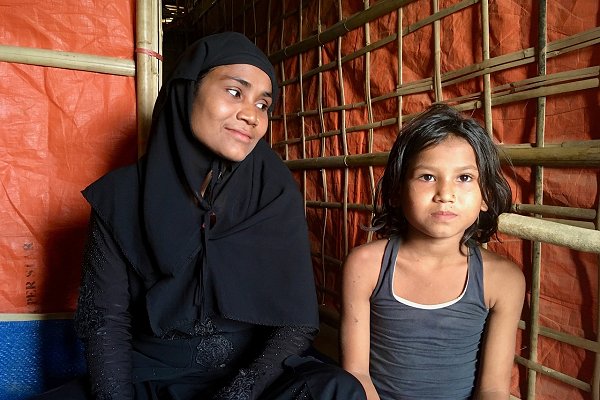 24 April 2018
(This story appeared first yesterday on the IFRC news site. IFRC Head of Emergency Operations, Steve McAndrew, describes the ongoing preparations for the monsoon and cyclone season here.)  
A sudden dramatic downpour last Thursday washed through some bamboo and plastic shelters where more than 600,000 people from Rakhine, Myanmar, have sought shelter in Cox's Bazar in Bangladesh.
The rain turned access roads into mud ponds, a warning that bad conditions will deteriorate even further soon.
Single mother Kulsuma Khatun (photo) has been preparing. The pre-monsoon rain did not affect the home she shares with her daughter and mother after fleeing Rakhine without her husband, who she believes is dead.
They live with other women in a row of shelters in Kutupalong camp.
'Bamboo poles'
Kulsuma's shelter seems sturdier than others, with rope tying down the roof and bamboo strengthening the walls. Building it in the first place took 14 days and injured her hands, she says, showing her palms.
"We made the shelter ourselves, the other women and I, my mother and sister-in-law. On the last day we called two nephews to buy rope and dig big holes for the bamboo poles.
"We asked a neighbour to get bamboo. We had no money or a way to work, so we did it ourselves."
Kulsuma Khatun is one of 500 people from the Rakhine community who have volunteered to be trained to reduce risks and save lives in an adaption of the Bangladesh Red Crescent Society's highly successful cyclone preparedness programme.
The volunteers, who are spread across all 25 camps in Cox's Bazar, serve different functions, including giving out warnings, checking people are safe, first aid, search and rescue, and distributing aid. Training partners include IOM, UNHCR, IFRC and the American Red Cross.
Her role will be going from shelter to shelter once a bad-weather alert has been sounded, checking people are safe.
Clay and sand
"I get a lot of pleasure from work like this. I believe that if I'm a volunteer I'm taking responsibility and if landslides and floods happen I can teach people how to survive," she says.
The test will come over the monsoon and cyclone seasons, when powerful winds and heavy rain arrives day after day, threatening the lives of displaced people camping on hills of clay and sand.
"For decades, the cyclone preparedness programme has been efficient at giving early warning and other disaster preparedness measures to people along the coastal belt of Bangladesh," says Harun Al Rashid, Disaster Risk Reduction Coordinator for the IFRC and the American Red Cross in Bangladesh.
"Cyclone season is coming very soon. If there's a kind of wind, heavy wind or storm, they'll be in trouble," Harun adds.
"Their houses are mostly made of sticks, plastic, bamboo, so preparedness measures are very important for this camp now."
Five-hundred people from the Rakhine community like Kulsuma Khatun, pictured here, have volunteered to take part in a version of the Bangladesh Red Crescent Society's highly successful cyclone preparedness programme. Spread out across all 25 camps near Cox's Bazar, they will disseminate warnings and provide first aid and other relief supplies. (Photo: Lynette Nyman/IFRC)