Extreme weather in southern Europe moves from one end of the scale to the other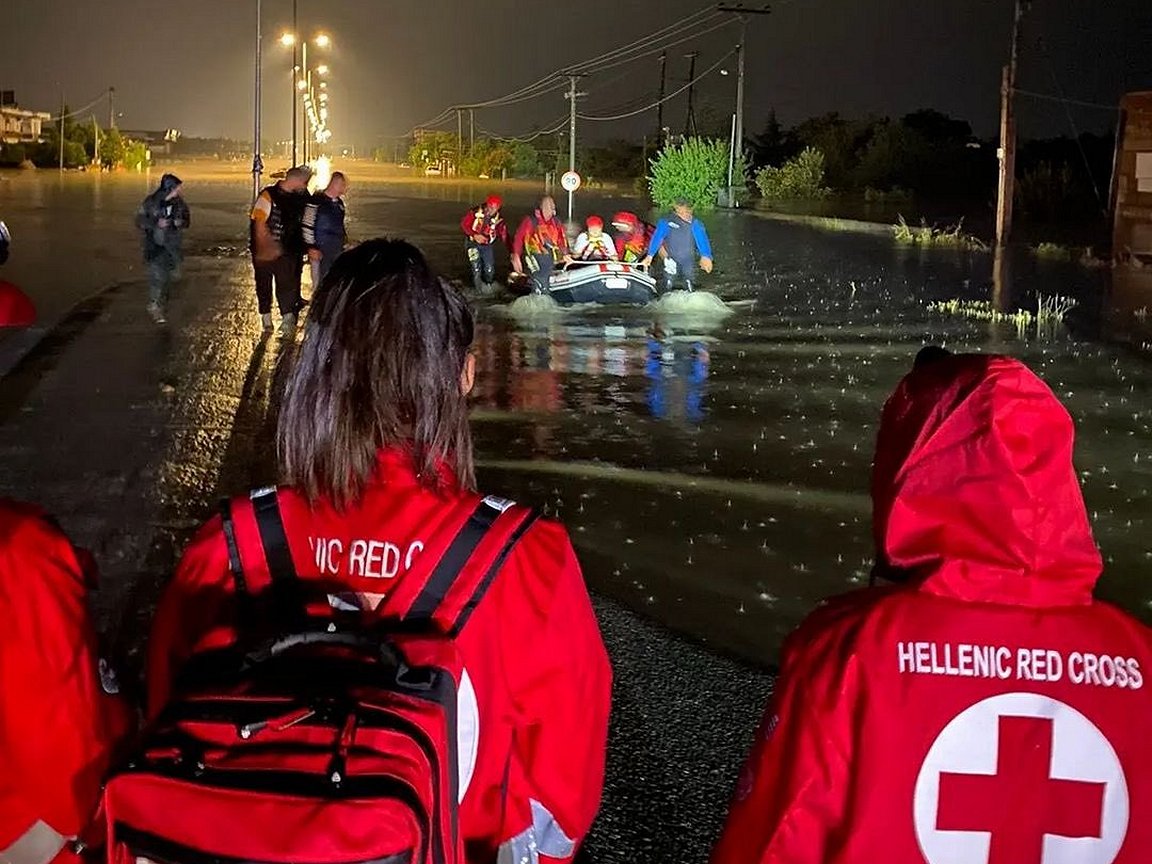 7 September 2023
By the Climate Centre
After record-breaking heat and wildfires earlier this summer, National Societies in several southern European countries are this week been grappling with the opposite extreme: intense rainfall and dramatic flash floods.
Climate Centre scientist Liz Stephens said Wednesday: "A persistently wavy jet stream has held two storm systems in place, leading to persistent rainfall over the Iberian peninsula, Greece and Turkey.

"Meanwhile, the same pattern is holding high pressure over France, the Benelux countries and the UK, causing a late-summer heatwave."
The Spanish Red Cross was earlier this week helping with search and rescue, providing food, water and psychosocial support, and also helping with the clean-up operation.
One of the worst-affected areas in Spain was the city of Toledo, just to the south-west of Madrid, where cars were swept away along roads that became rivers in full spate.
The Spanish met service AEMET earlier issued a red alert for both cities – the highest of its three-tier system, and local authorities urged people to stay indoors as the slow-moving storm system created an "exceptional and anomalous situation".

Forecasts today indicated rain from Storm Daniel would persist in Greece at least until Friday, when the blocked weather system could begin to move south, potentially affecting North Africa.
'Some parts of Greece have had in a day the amount of rain London gets in a year'
"The Hellenic Red Cross has been supporting with evacuations from vehicles and houses, with special care being provided to the most vulnerable," the IFRC Europe region's Edgar Zuniga said yesterday.

"Red Cross teams have been collecting vulnerable citizens and those who have chronic illnesses, transporting them to and from hospital for necessary treatment.

"In Bulgaria, the Red Cross has provided 800 family food packages and 100 bedding kits as well as ten tons of drinking water, while in Turkey, Red Crescent teams have been distributing hot meals and drinks as well as blankets to those affected in the region of the Black Sea coastal city of Samsun."
One part of Istanbul, Turkey's largest city and Europe's most heavily populated, saw significant flash floods late Tuesday.
In one location, Kırklareli, close to the Bulgarian border, the Red Crescent said it was helping to search for people reported missing in the flood.
BBC forecasters said yesterday that "some parts of Greece had received in a day the amount of rain London gets in a year."
Professor Stephens adds: "Record rainfall in Greece this week has been more like the amounts experienced during some of the most severe tropical cyclones in recent years.
"While a wavy jet stream is not unusual, there is an ongoing area of research to understand how climate change will affect these characteristics in the future.
"But despite uncertainty over how the jet stream is changing, scientists are confident that warmer temperatures as a result of climate change are supercharging these weather systems and driving warmer and/or wetter conditions."
Floods in Slovenia last month caused hundreds of millions of euros' worth of damage and were described as that country's worst-ever disaster: "Approximately two-thirds of Slovenia's territory is currently grappling with the aftermath of flash floods, torrential rain, and hailstorms, with 181 municipalities affected out of the total of 212," the Red Cross reported in mid-August.
A DREF grant of 1m Swiss francs will assist 40,000 people there.

(This story was amended on 13 September to clarify that the BBC, not the UK Met Office, made the comment about the amount of rain that fell on Greece.)

Greek Red Cross personnel were helping with emergency evacuations, this week after floods caused by record amounts of rain. (Photo: Hellenic Red Cross)