Climate Centre partner scientist's international award for 'outstanding service'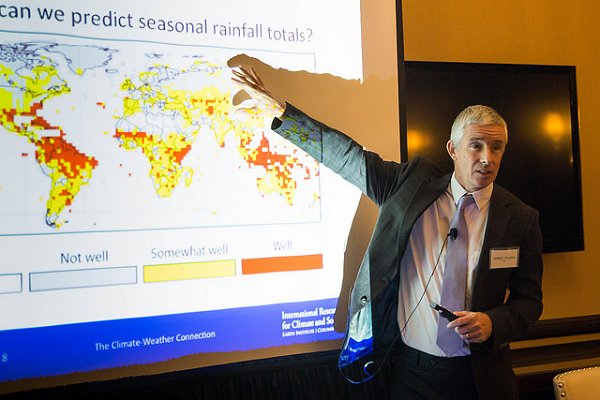 18 April 2018
The World Meteorological Organization (WMO) last week gave the 2018 Commission on Climatology Award for Outstanding Service to Simon Mason – Chief Climate Scientist at the International Research Institute for Climate and Society (IRI).
Dr Mason, a longstanding Climate Centre collaborator, is a focal point for the IRI's partnership with the IFRC and led development of the Climate Predictability Tool (CPT).
The WMO said the award was in recognition of his contributions to the commission, particularly with training activities and as a contributor to regional forums and the CPT.
The award was presented at a ceremony at WMO headquarters in Geneva last Tuesday – the second day of the 17th session of the Commission on Climatology (CCl) that ended Friday.
Simon Mason has been involved in research and operations on seasonal forecasting since joining IRI in 1997.
He was earlier deputy director of the Climatology Research Group at the University of the Witwatersrand in South Africa, where he developed models for predicting Southern African rainfall.
'Scientific excellence'
"The WMO could not have chosen a better recipient for this award," said Climate Centre Director Maarten van Aalst.
"Few scientists have truly delivered climate services like Simon has," he emphasized, "including in countries where climate information is much harder to come by, but the need far greater.
"His contributions to the Red Cross Red Crescent include work on our map rooms and FbF triggers, but also supervision of several IRI interns seconded to National Societies – many of whom went on to become valued experts in their own right after benefiting from his insights and encouragement.
"I've personally relished not just his scientific excellence and his focus on making climate services truly useful for the people who need them, but also his communication skills and sense of humour."
The CCl, a key constituent body of the WMO, convenes panels of experts on the management of climate data, monitoring, climate services, and information for adaptation and risk management, the organization says.
Simon Mason presents to an international group of visiting broadcast meteorologists in New York during a Climate Week event. (Library photo: Elisabeth Gawthrop/IRI)