Red Cross Red Crescent scientists to work on next IPCC assessment of the global climate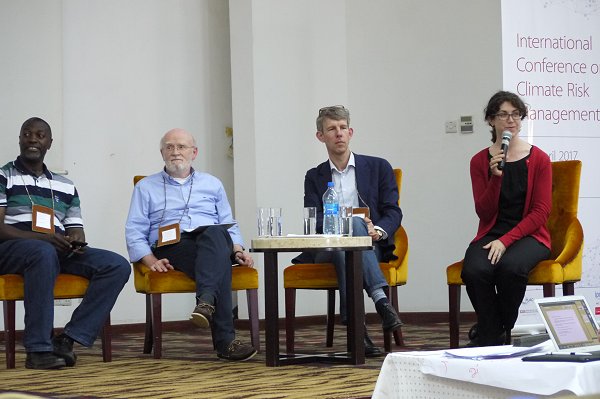 9 April 2018
The Intergovernmental Panel on Climate Change (IPCC) – the UN body created 30 years ago for assessing the science related to climate change – Friday released the names of more than 700 experts who will work on its next report on the global climate, the sixth, known as 'AR6'.
The selection (from a long list of several thousand) of 721 experts from 90 countries as lead authors and editors allows work to start on a report that "will inform policy-makers, international climate negotiators and other stakeholders about the latest knowledge on all aspects of climate change," the IPCC said. 
The Climate Centre is contributing three scientists to the second – covering impacts, adaptation and vulnerability – of the three IPCC working groups: its Director, Maarten van Aalst, who will work on identifying key risks; its Manager, Climate Science, Erin Coughlan de Perez, who will focus on decision-making options for managing risk; and its Pacific Climate Adviser, Olivia Warrick, who will look at the situation of small island states.
Dr Van Aalst, who holds a PhD in atmospheric science, was Coordinating Lead Author for the IPCC special report on extremes and a Lead Author for the IPCC Fifth Assessment Report.
'Excellent nominations'
Last April's International Conference on Climate Risk Management – hosted in Nairobi by the Kenyan Red Cross Society and convened by the IPCC and the Climate Centre – generated advice for AR6 on risk, including how to combine climate science with information about vulnerability and exposure.
The meeting also looked at how to engage stakeholders, especially from vulnerable regions, and identified research priorities for the coming IPCC assessment.
A parallel side-event at the University of Nairobi centred on adaptation issues important, especially, to developing countries.
Presenting information on risk to be of most use to decision-makers will also be critical at next month's IPCC expert meeting on assessing climate information for regions in Trieste, Italy – one of the first for AR6 that combines experts from the three working groups.
AR6 will play an important role in implementing the Paris Agreement," said IPCC Chair Hoesung Lee last week. 
"These author teams, drawn from the hundreds of excellent nominations the IPCC was fortunate to receive, provide us with the necessary expertise across a range of disciplines to conduct the assessment.
"I am gratified that we have also raised the proportion of women and scientists from developing countries involved in our work." 
The IPCC first set down outlines for AR6 last September; the three working group contributions will be released in 2021 and the synthesis report the following year, ahead of the first full global review of progress with the Paris Agreement  
The Climate Centre's Erin Coughlan de Perez (at right) and Director Maarten van Aalst at last April's International Conference on Climate Risk Management in Nairobi that generated advice for AR6. On their right are Hans-Otto Pörtner, a co-chair of IPCC Working Group II, and (at left) Shuaib Lwasa of Makerere University in Uganda and also an IPCC Lead Author. (Photo: Kenya Red Cross)