'Africa is not just a passive victim of climate change but a strong voice and an actor for global targets'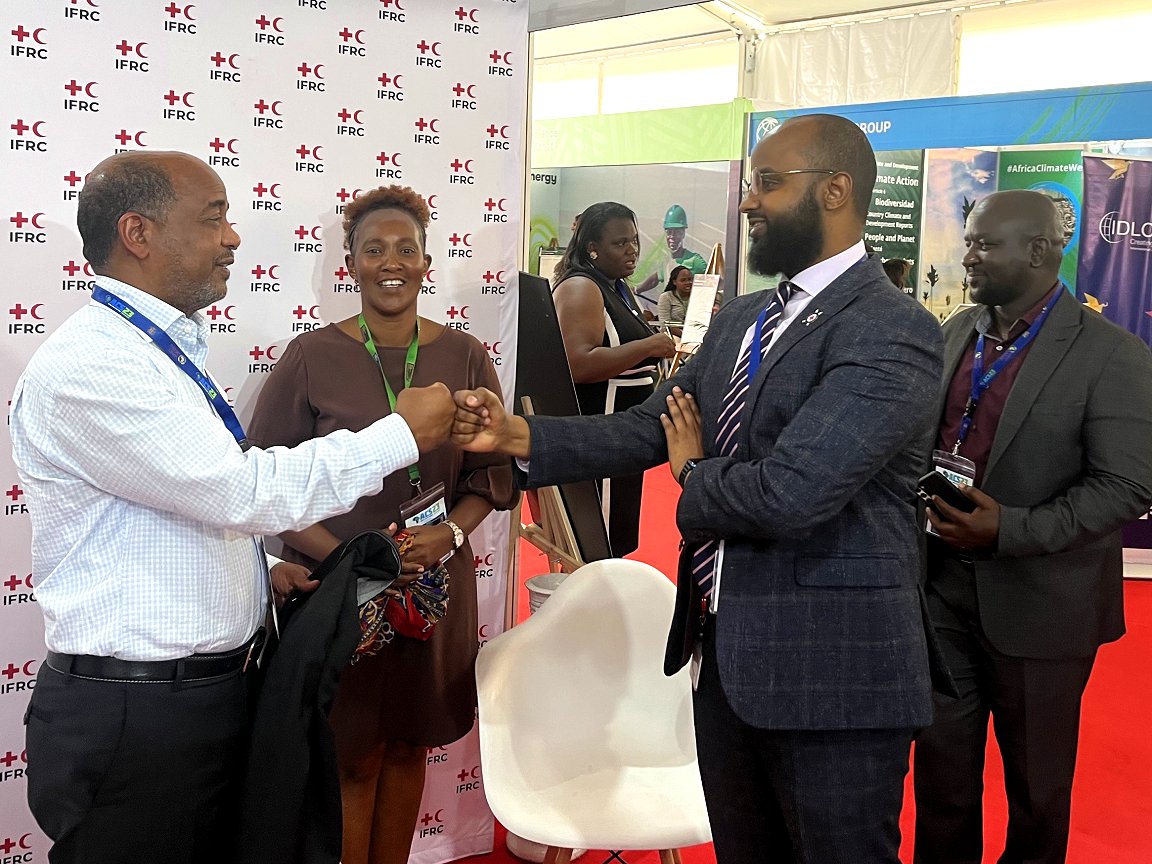 10 September 2023
By the Climate Centre
Africa Climate Week ended in Nairobi Friday, organized in parallel with the first-ever Africa Climate Summit – also hosted by the Kenyan government – that drew to a close on Wednesday.
The summit, championed by Kenya's President William Ruto, was aimed at addressing "the increasing exposure to climate change and its associated costs, both globally and particularly in Africa," organizers said.

"With the expectation of escalating climate crises in terms of frequency and intensity, urgent action is required to mitigate these challenges."
In a video message ahead of the summit, President Ruto said: "African nations are emerging as the new torchbearers of the most impactful climate action, and at the summit we aspire to chart a new growth agenda that will deliver shared prosperity and sustainable development."
The Nairobi declaration adopted at the end of the summit concluded with a call to action to world leaders to "appreciate that decarbonizing the global economy is also an opportunity to contribute to equality and shared prosperity."

A new "global financial architecture" was needed to both address the debit crisis and enable climate action, it said.
A range of commitments and announcements made at the summit by governments, the private sector, banks and development agencies equates to an investment in climate action of US$ 26 billion "that lays the pathway from Nairobi to Net Zero," according to a separate document issued in Nairobi.
'Major win'

Discussing the conference and the declaration on Kenya's Citizen TV Thursday, Kenya Red Cross (KRCS) Secretary General Ahmed Idris said: "We've really cemented the role of Kenya in global climate diplomacy: I think that's just the first win for us as a country.

He added that for Africa as a whole, "we are more prepared than we were in the past … so that's the second major win."

The Nairobi declaration, thirdly, had "placed the discussion that we are looking forward to in COP28 in the context of [early COP meetings] and "the reality of today and the future of Africa, and that combined level of success means that it was really a good conference."
The KRCS issued its own seven key messages at the end of the summit, which included the statement that "Africa is not just a passive victim of climate change but a strong voice and actor in achieving global climate targets and commitments."
IFRC Regional Director for Africa Mohammed Omer Mukhier told a high-level side-event at the summit that the International Federation's global commitment to preparedness focused on "three specific integrated areas".
There was a need for the "simplification of early warning information that we receive from different service-providers.

"Number two, dissemination of early-warning information, community engagement and mobilization, and collecting the evidence and the facts from the community perspective."

Thirdly, he added, "and most importantly, enhancing the early preventative, risk-informed actions to save lives and livelihoods, and strengthening community resilience."
Another side-event hosted by the Kenya Red Cross was entitled Systems Thinking for Enhancing Community Resilience to Climate Risk. The KRCS also jointly hosted a side-event on the "nexus between mental health and climate-related disasters".
Arguing that "conflict zones cannot be left behind", Clare Dalton, ICRC Head of Delegation in the United Arab Emirates, which will host COP28 in Dubai in December, urged renewed commitment on ambitious action and emissions to ensure a "habitable future".

The Nairobi summit, she tweeted, must recognize special vulnerability of conflict-affected countries to climate risk, and "strengthen climate action with fit-for-purpose finance".
The ICRC has pointed out that of the 25 countries regarded as most vulnerable to climate impacts, 14 are also affected by conflict.
The climate summit will now be convened by the African Union every other year, hosted by an AU member state.
'Quantum leap'?

UN Secretary-General António Guterres, who was in Nairobi for the summit, said in an address that despite climate impacts that include "extreme heat, ferocious floods, and tens of thousands dead from devastating droughts", Africa is responsible for just 4 per cent of global emissions.
"The blow inflicted on development is all around, with growing hunger and displacement"; it was still possible to avoid the worst, he said, "but only with a quantum leap in climate action".
In a separate development Friday, a major new UNFCCC report ahead of the global stocktake at COP28 said that despite progress in some areas, the world is not on track to meet long-term Paris goals.
It summarizes nearly 20 findings from technical discussions over the past two years on the implementation of the Paris Agreement, based on the best scientific information: in all areas, from mitigation to loss and damage, "much more needs to be done".
The UN assessment says many "opportunities for adaptation across systems and sectors" have been "mainstreamed into existing development priorities and processes".
The scientific literature encompassed various approaches "across hazards and sectors, such as advancing ecosystem-based adaptation or nature-based solutions and multi-hazard early warning systems."
Kenya Red Cross Secretary General Ahmed Idris (at right) and IFRC Regional Director for Africa Mohammed Omer Mukhier at last week's historic Africa Climate Summit. In between is the IFRC's Nairobi-based Senior Communications Officer Rita Nyaga, and at far right, Peter Murgor, Manager, Disaster Risk Reduction, KRCS. (Photo: KRCS via social media)