Scaling up climate action an 'absolute priority' in new IFRC Global Plan 2021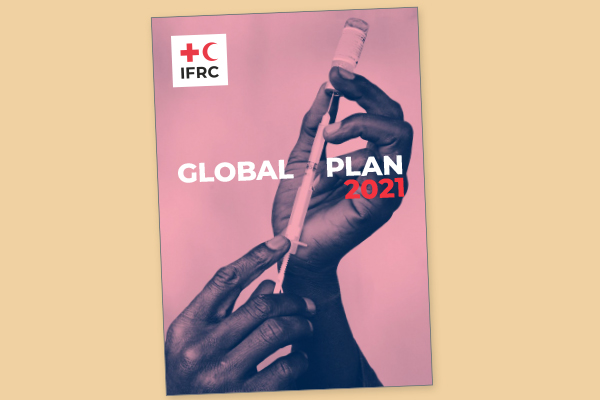 8 December 2020
The IFRC Friday launched its Global Plan 2021 detailing its ten-year Strategy 2030 that has climate change at its centre, an Agenda for Renewal that provides a vision of how to implement the strategy, and a Plan and Budget 2021–25.

The overall aim is to become "leaner, stronger and more accountable," in the words of Secretary General Jagan Chapagain, to meet the uncertainty of the near future that has been amplified by the Covid-19 pandemic.

Covid, he said in a special message, has taken lives, made economies fragile, "pushed people into vulnerability and hardship, and tested our ability to unite in our response.

"However, it is not the only crisis. We continue to face increasing disasters, climate change and conflicts that erode the resilience of the most vulnerable."

The new Plan and Budget 2021–2025 introduces six flagship initiatives that will help the organization meet its targets, Mr Chapagain adds in his message. In summary these are:

*Prioritizing the IFRC secretariat's role in National Society development "as a critical step toward reinvigorating the trust and ownership of its members".
*Providing leadership, coordination, advocacy support and resource mobilization to help National Societies address the "absolute priority" of scaling up climate action.
*By 2025 tripling the Disaster Relief Emergency Fund and anticipatory funding to 100 million Swiss francs.
*Delivering half of all of humanitarian assistance through cash and vouchers.
*Reducing deaths from cholera by 50 per cent through expansion of its global water and sanitation initiative.
*Supporting National Societies' actions after Covid-19 with vaccination, first aid, psychosocial and livelihoods support, and community engagement "for an inclusive, resilient and green recovery".
'The IFRC will integrate climate and
environmental risk management across
all programmes, operations and advocacy'
The IFRC begins to implement its Strategy 2030 next year, and the new plan further details each of its five priorities that, in addition to climate, comprise: evolving crises and disasters, growing gaps in health and well-being, migration and identity, and values, power and inclusion.

"The success of this five-year plan and budget will depend on the IFRC's ability to raise the necessary unearmarked financial resources to scale up actions to strengthen National Societies to reach a higher quality in the delivery of humanitarian services," the Global Plan 2021 says.

On the climate component of Strategy 2030, it adds: "The IFRC will integrate climate and environmental risk management across all programmes, operations and advocacy focusing on reducing current and future humanitarian impacts.

"It will transform the way it considers and addresses climate and environmental crises by promoting a more 'climate smart' and environmentally sustainable approach across all its activities and operations."

The IFRC also plans to support National Societies in helping "communities adapt to and prepare for the longer-term impacts of climate change, such as sea-level rise and heatwaves, and to implement nature-based solutions."

The IFRC says it will leverage the know-how and presence of the network, including the Climate Centre, the disaster risk reduction working group, the green response working group, and IFRC reference centres.

The Climate Centre itself, it adds, "serves as the IFRC's principal technical resource to achieve our climate ambitions…with numerous tools and resources for the network to leverage."

Specific climate-related actions for 2021, in conjunction with the Climate Centre, now listed by the IFRC include training courses, analysis of community perceptions, guidance to make appeals climate-smart, tools for urban action by National Societies, research on legal frameworks, a climate and environment charter for the sector in collaboration with the ICRC, nature-based solutions, and others.

'Population movement'

Climate also features prominently in the plan's description of Strategy 2030 work by region. "In the Caribbean," it says, for example, "climate change is an existential threat requiring urgent and effective action and it is exacerbating push factors for migration out of Central America."

In the Asia-Pacific region, climate change and extreme-weather events "are being compounded by rapid urbanization."

The plan highlights "a key concern for the National Society in India where [heatwaves] have been more frequent, intense and longer than in previous years" and are "particularly harsh on farmers, street vendors, daily-wage earners, construction workers and even the traffic police in cities."

In the Middle East and North Africa, "climate change continues to threaten development in the region and is fuelling conflict and population movement."

The Global Plan 2021 says, in conclusion, that National Societes "have responded to the global Covid-19 pandemic "as they have to all local challenges: with urgency, understanding, efficiency, accountability and with the support of a worldwide network."

It adds, however, that "we must not lose sight of the other challenges that require our presence and attention. We will continue to be present for communities before, during and after disasters.

"We will continue to focus our efforts on supporting the most vulnerable to build their resilience and reduce their risk. These are the keys to weathering any storm ahead."
(Image: IFRC)