Bracing for a crisis within a crisis in Bangladesh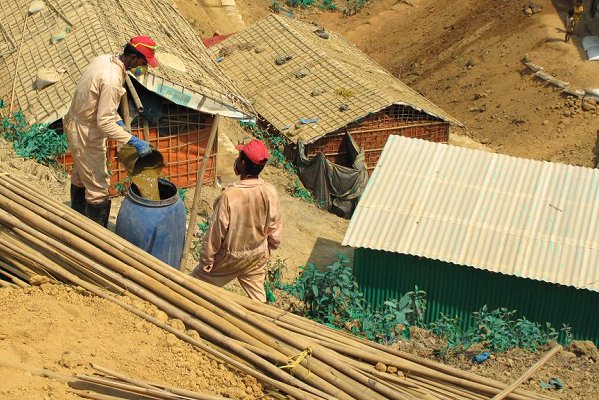 9 April 2018
(This story appeared first on the IFRC news site on Friday. Rosemarie North is the IFRC communications manager for the Asia-Pacific region.)
People who've fled Rakhine in Myanmar for safety in Bangladesh now face the threat of monsoon rains and cyclones. The Bangladesh Red Crescent Society (BDRCS), supported by the IFRC and other partners, is taking action to reduce the risks and be able to respond quickly if there's a crisis within a crisis.
"Life is difficult enough right now, with almost 900,000 people crowded into huge, sprawling camps on unstable hillsides, each family living in a flimsy structure made of bamboo, plastic sheeting, cardboard and sometimes corrugated-iron sheeting. It's extremely basic," says Ekram Elahi Chowdhury, BDRCS project director.
"It's worrying that within weeks, life could go from extremely basic to dangerous here."
The monsoon season starts this month (April) and peaks between June and August, historically bringing almost daily downpours and 400 to 600mm of rain a month.
Cyclones could tear shelters apart, leaving families exposed to the elements. Floods from the rain or cyclone could block access paths to food, water and healthcare, or maroon people on little islands, an effect some experts call "lily pads".
At least 100,000 people from Rakhine are at risk; neighbouring host communities are not safe either.
Rains and winds
The risks of hillsides collapsing are higher because the newcomers have destabilised them by chopping down trees to make room to live and to take wood for building and cooking. In March, a landslide killed one child and left another badly injured.
"If there is a cyclone, where will we take shelter?" a 29-year-old man from Balukhali camp asked through the Red Cross Red Crescent's community communication mechanism.
"After a storm, if different diseases spread due to air and water pollution, will we get immediate medical support and medicine?" a 26-year-old woman from Kutupalong asked.
The questions don't surprise Jamie Sport, IFRC community engagement and accountability delegate.
"When we talk to people at our listening groups, it's clear they're worried about the strength of their shelters, whether cyclone-proof shelters will be available, and how their families will continue to get access to food, water and medicine."
To help families prepare for the rains and winds, the Red Cross Red Crescent is distributing sandbags, ropes, plastic sheeting and tie wire, along with training and advice on how to use these materials to make shelters sturdier.
People are advised to dig out their shelters, drop their roofs and reinforce their walls with sandbags.
All around the camps, people are digging out channels, improving paths and digging drainage ditches.
At a faecal-sludge treatment site in Balukhali camp, the Red Cross Red Crescent team mixes human waste with lime to kill bugs and then dries it in the sun.
'The monsoon season starts this month
and peaks between June and August,
historically bringing almost daily downpours
and 400 to 600mm of rain a month' 
IFRC sanitation engineer Miriam Englund says: "We're basically a huge sludge factory. We're treating about three cubic metres a day now. The monsoon is going to be a huge problem and we need to find a way to process waste more quickly.
"We are increasing capacity with drying beds covered with plastic and finding a way to separate out the liquid from the sludge we collect."
To reduce the risk of disease when the rain comes, volunteers from the Rakhine community are lifting human waste out of family toilets (de-sludging) so there is more room during the rainy season when hillsides will be too slippery to empty them.
IFRC water, sanitation and hygiene promotion delegate Ewinur Machdar says: "During the rainy season some of the latrines in the camp are going to be flooded. If they overflow, this will be a public health risk because there'll be contaminated water all through the camp. We're trying to avoid this by decommissioning toilets that are likely to be flooded.
"It's a bit challenging because of access. The camp itself is huge, the terrain is hilly and we're relying on a manual system of emptying latrines and carrying the waste to this site."
Hundreds of volunteers from the camp and host communities are learning cyclone preparedness: first aid, search and rescue, and how to interpret extreme-weather warnings so they can pass on safety messages.
Secondly, the Red Cross and Red Crescent is ensuring life-saving assistance can continue during bad weather. Health clinics on low-lying land are being relocated. Facilities will be made cyclone-resistant to bolster business continuity.
Field hospital
Finally, the Red Cross and Red Crescent is poised to respond if floods and a deadly cyclone do strike.
The emergency field hospital can be dismantled and packed into shipping containers until the danger is over, when it will resume activities as soon as possible.
The warehouse is being emptied of stock and filled with emergency supplies such as tarpaulins, rope and communal kits to rebuild torn or lost shelters, hygiene kits, oral rehydration salts, water purification stands and 3.5 million packets of fortified biscuits.
Sanjeev Kafley, IFRC head of sub-office for Cox's Bazar, says: "Unfortunately, we can expect living conditions in the camps to dramatically worsen during cyclone and monsoon season, threatening the most vulnerable people.
"We'll continue to advocate for solutions that will make life sustainably better for people who've fled violence in Rakhine.
"Any solution that allows people to have safe and dignified lives in or out of camps would be major progress; even temporary solutions would ease suffering. However, until the root causes of this crisis are addressed people will continue to struggle."
Volunteers from the Rakhine community are emptying latrines by bucket in their camps in Bangladesh (photo), carrying human waste to a treatment site where it's mixed with lime. Now the race is on to empty latrines before the rains make the clay hills too slippery to move around on and decommission altogether others situated in areas especially vulnerable to floods. (Photo: Rosemarie North/IFRC)