PfR advises South Sudan on new strategic plan that 'integrates community resilience into humanitarian assistance'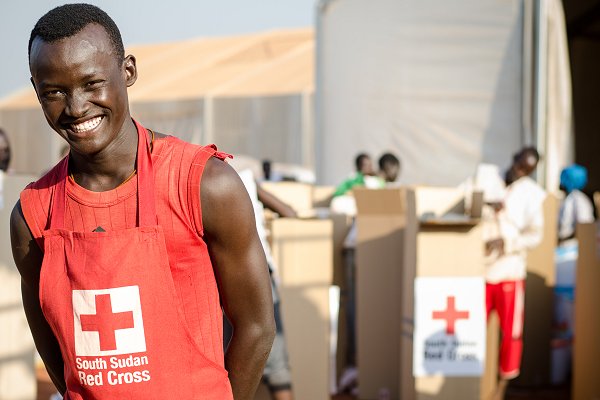 5 April 2018
South Sudan's Ministry of Humanitarian Affairs and Disaster Management (MHADM) last week published its Strategic Plan 2018–20 for saving life and reducing the impacts of disaster across the country.
It was launched at a special event in Juba on Wednesday – sponsored by Partners for Resilience (PfR) – that also included an exhibition by all the ministry's collaborators.
At a press conference earlier, MHADM Undersecretary Gatwech Peter Kulang told journalists the country's "disaster profile was dominated by conflict, droughts, floods, diseases and epidemics that together disrupt livelihoods, destroy infrastructure and divert resources".
The ministry would now work with partners to prioritize resilience programming in addition to implementing the strategic plan that would "institutionalize mechanisms for addressing disasters".
The new plan, he added, "will emphasize to partners [the importance of embracing] the integration of community resilience into humanitarian assistance and disaster risk reduction."
Resilience was "a key policy issue because it is one of the most sustainable strategies for ensuring that the people of South Sudan are prepared for, protected from, and able to…bounce back from incidents with potentially negative consequences."
'Unprecedented food insecurity'
The MHADM plan was compiled over the past year with assistance and advice from the South Sudan Red Cross (SSRC), PfR, the IFRC and others.
South Sudanese officials say disasters there are triggered or driven by various factors, key among which are climate and human negligence, resulting in high levels of vulnerability.
SSRC Secretary General John Lobor said at the launch of the MHADM plan that "we continue to face unprecedented food insecurity and malnutrition rates, more recurrent floods and droughts and disease outbreaks such as cholera, Rift valley fever and current meningitis outbreak in Aweil that have…caused loss of life and livelihoods in our young nation.
"We also note an increase in localized conflict over water and pasture, as well as ecosystem degradation."
He said the SSRC and PfR would strengthen advocacy for integrated risk management: "We must continue responding to crises, but we will not treat them as isolated incidents – we must shift away from this thinking and rather be smarter in the way we prepare for, anticipate and respond to these emergencies.
"We must enable more anticipatory and respectful local responses and innovative approaches, which of course will require flexibility and leadership of a concerted effort, including our donors, civil society, communities and government.
"We believe this will save lives and livelihoods of millions of our vulnerable people."
'Disaster laws'
SSRC support for the South Sudan authorities, Mr Lobor added, would also include "comprehensive resilience strategies, including the development of strong and effective disaster laws and policies to promote empowerment at the local and community level."
The ICRC said recently 2017 saw a "severe deterioration of humanitarian conditions" across South Sudan, with a record 6 million people without sufficient food.
The International Committee was continuing to provide food aid, seeds, tools, fishing nets, and water and sanitation facilities, and had begun supporting more health structures.
Together with Haiti, South Sudan joined the second phase of the PfR programme, supported by the Netherlands Ministry of Foreign Affairs, in 2016.
South Sudan Red Cross volunteer Youhana Sebit, who says he loves music and drama, writes songs for use in his community to promote public-health messages. In the picture he helps pack household items for distribution in Aweil state as part of a joint SSRCS, ICRC, IFRC programme. Aweil is one area assessed as being particularly prone to floods in the South Sudanese government's new PfR-assisted disaster-management strategy, and targeted for further vulnerability assessment. (Library photo: Corrie Butler/IFRC)