Ecuadorean Red Cross starts scoping for forecast-based response to volcanic ash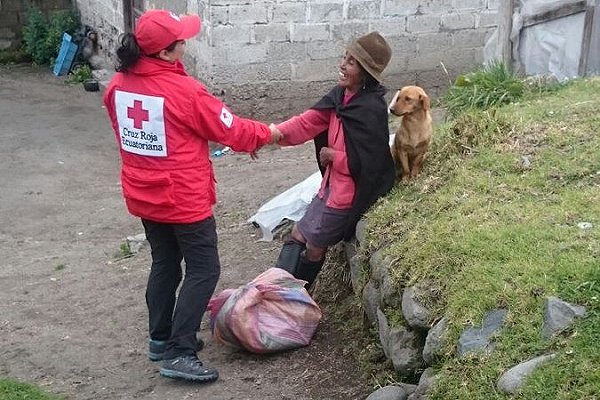 4 April 2018
The Ecuadorean Red Cross has begun scoping work for a new German-supported forecast-based financing (FbF) programme to centre on the danger from volcanic ash clouds.
The ERC is the first National Society anywhere in the world to deploy FbF for this hazard.
Ecuador has several active or eruptive volcanoes and the FbF assessment mission focused on one of the most active: Cotopaxi, 50 kilometres south of Quito.
Volunteers from several ERC branches and specialists from national headquarters gathered information and conducted interviews with residents of the communities of San Pedro de Tenería and La Libertad.
Both are very close to the volcano and suffered from ash impacts in 'phreatic' (steam) eruptions of Cotopaxi in 2015; the movement of ash clouds depends largely on wind speed and direction that can be forecast, opening up the possibility of early humanitarian intervention to mitigate impacts.
Volcanic ash is harmful to human and animal health, and can disrupt aviation, infrastructure, industry and agriculture.
Cash transfers
Using Open Data Kit methodology and focus-group discussions, the Red Cross team probed issues centred on livelihoods, access to food, and the local market economy in the predominantly agricultural communities.  
Interviews were also conducted with local businesses on how they have been affected by previous volcanic activity at Cotopaxi, which at nearly 6,000 metres is Ecuador's second-highest peak and one of the highest volcanoes in the world.
The Red Cross has also been working with Ecuador's Geophysical Institute (IGEPN) to develop scenarios for eruptions and patterns of ash dispersal for several other active volcanoes.
All this information will aid a feasibility study for a cash-transfer programme as part of FbF in Ecuador, supported by the German government and Red Cross with technical assistance from the Climate Centre.
Volcano preparedness
At a conference in Quito last November the ERC became the second South American National Society after Peru's to embrace the FbF operating model, with agreements with IGEPN and the National Institute of Meteorology and Hydrology.
An earlier IFRC DREF operation for US$ 125,000 for volcano preparedness was extended in early 2016 after a second surge of activity at the Tungurahua volcano in the Andes 140 kilometres south of Quito.
Volcanic emissions late the year before reached 3,500 metres above the crater and dumped as much as 6 millimetres of ash on nearby villages and several parts of Tungurahua and Chimborazo provinces; that international operation in 2015–16 assisted 5,000 people.
Ecuador Red Cross volunteers using the ODK tool to gather information about people's lives and the local economy in San Pedro de Tenería. (Photo: ERC)